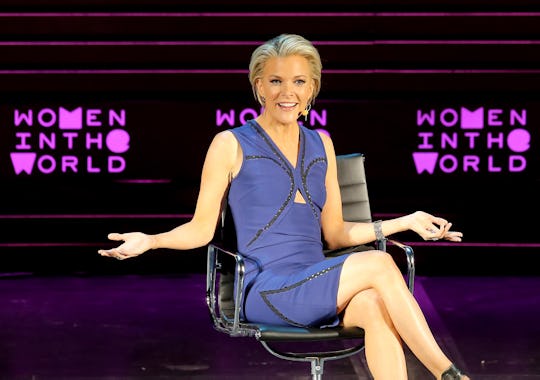 Jemal Countess/Getty Images Entertainment/Getty Images
What Megyn Kelly Will Do At NBC
One of the most powerful, sought-after, and passionate voices of broadcast journalism is jumping ship. Megyn Kelly, host of Fox News' The Kelly File, and oft-Trump Twitter target, is moving to NBC where she will take on a plethora of duties. So what exactly will Kelly do at NBC and why is she leaving the Fox bubble?
The knowledge that Kelly's contract with Fox was coming to an end has been circling the rumor mill for a while, with competing companies reportedly fighting to bring her on board. Kelly has gained popularity among both political parties for her unwavering gaze and relentless questioning of world leaders everywhere. She is known for asking the important questions, and holding just about everyone accountable — especially Donald Trump.
One of the first times Kelly made headlines of her own doing was back in 2015 when, acting as a moderator, she asked then-candidate Trump to explain his comments towards women at the first Republican primary debate.
"You've called women you don't like fat pigs, dogs, slobs, and disgusting animals," Kelly said. "You once told a contestant on Celebrity Apprentice it would be a pretty picture to see her on her knees. Does that sound to you like the temperament of a man we should elect as president, and how will you answer the charge from Hillary Clinton … that you are part of the war on women?"
Trump's response? To take to Twitter (are we surprised?) with insults, exclamations, and poorly-chosen words to portray his anger. Along with an angry Tweet following the debate, Trump responded directly to Kelly, saying "Honestly, Megyn, if you don't like it, I'm sorry. I've been very nice to you, although I could probably maybe not be based on the way you've treated me." A clear indication of Trump's anger at being called out with actual facts.
Since then, the two have engaged in harsh words, call-outs, and more. Of course, Trump has erred more on the side of behaving like a middle school bully, but that's not really a surprise. What's important is that Kelly has maintained her grace, composure, and confidence in the face of Trump's attacks, adding value to her TV personality, and turning her into a household name.
So, she's moving onward and upward in the newscast world, leaving Fox News' second-most-watched program and arriving at NBC where she is preparing to take the helm of a variety of programs.
Kelly will be taking on much more responsibility at NBC, hosting a daytime news show, anchoring a Sunday evening news program, and participating in other political coverage taking place, according to a statement Kelly posted to her Twitter on Tuesday.
While more in-depth details of Kelly's new roles will be revealed in the coming months, this is still an important decision for her to make. In her autobiography, Settle For More, Kelly spoke of allegedly being harassed by Roger Alies, former Fox News chief who left the company in July 2016 following multiple sexual harassment accusations. (In a statement released by his lawyer in November, Ailes and his legal team denied the harassment, saying "I categorically deny the allegations Megyn Kelly makes about me. I worked tirelessly to promote and advance her career, as Megyn herself admitted to Charlie Rose.")
With Kelly overcoming so much during her time at Fox, this new career change can be seen as a strategic, inspiring move from Kelly, a smart, professional woman making waves, and showing little girls everywhere that they are capable of big things.