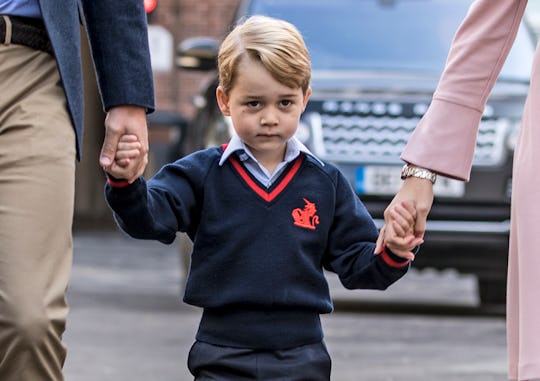 WPA Pool/Getty Images Entertainment/Getty Images
Prince George's School Curriculum This Year Is Surprisingly Intense
The summer is nearly over and the kids are getting ready to go back to school. Parents are super excited for the most part, and kids are probably feeling a bit anxious about what the school year is going to bring. In some cases, I guess they should be a little anxious. Like little Prince George; this year looks like it might be a little different from last year. After spending his first year at Thomas's Battersea in London as a "reception student," what will Prince George learn in school this year? The 5-year-old will be switching to a more structured curriculum, and nobody ever wants to hear those two words together now, do they?
Everyone remembers seeing Prince George on his first day of school last year. His mom Kate Middleton was feeling ill (and pregnant for his baby brother, Prince Louis), and his dad Prince William brought him for his first day at Thomas's Battersea. The poor little guy looked so worried and shy, but fortunately he's had a year to get accustomed to the social aspects of the school. Which sounds like just enough time to get used to little boy school before digging in to the educational side of big boy school.
According to Town and Country, while Prince George has already experienced his first year of full-time school he was still considered a "reception year" student at the independent school of Thomas's Battersea. This coming year he will be in Year 1, which Thomas's Battersea describes as:
Year 1 sees the beginning of a more formalized learning program. Children in Year 1 become increasingly independent and confident and begin to relish the opportunity to tackle new challenges presented to them across the broad curriculum.
So what sort of courses will Prince George take under the umbrella of this "broad curriculum?" According to Vogue, he will be honing his skills in some basic subjects like:
math
science
history
English
geography
religious studies
These aren't the only subjects that Prince George can take, however. He will also be able to take some of the fun courses like music, drama, French, ballet (and now I'm dying), swimming, gymnastics, and just games in general, according to People.
I know what you're thinking; this all sounds so great and fun but what about homework? Will the young prince have to do homework? While the school's curriculum guide doesn't actually call it homework, the school does stress a "healthy home/school partnership:"
The school values the importance of a healthy home/school partnership and values the role of parents in the home. It also provides opportunities for them to contribute to the personal and social development of the children through active involvement in the life of the school.
In other words... yeah, there's homework. Hopefully there won't be too many royal weddings for Prince George to act as page boy. He's going to be pretty busy with school stuff.
Now don't go worrying about Prince George, guys. It's not all hard work at his school. He can join in to some extra-curricular activities this year too, according to Vogue, like joining the wonderfully named Lower School Unicorn Choir. Not cute enough for you? Please note that Prince George will have access to playing the bagpipes in the choir. This image makes my life complete.
I hope Prince George loves going to school. I have a feeling the school menu will help because the food sounds better than anything I've eaten in the last few years. Plus, I'm excited for him to just play in the playground with other kids who hopefully don't care that he's a royal.
And if he could just go ahead and join that Unicorn Choir, that would be great.