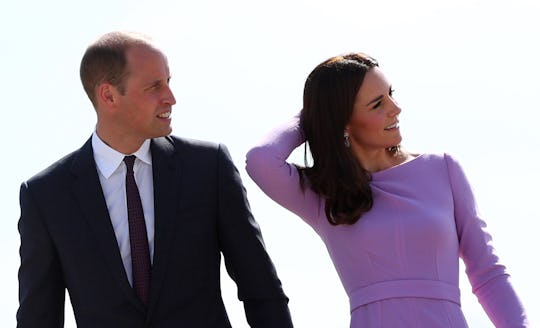 CHRISTIAN CHARISIUS/AFP/Getty Images
People Are Already Guessing What Prince William & Kate Middleton Will Name Their Third Child
Another royal baby is on the way, which means that us common folk are left to speculate about all sorts of things, like what William and Kate will name their third child or what Kate's pregnancy cravings will be. The latter will be tricky, since the Royal Family is very private (and Kate is currently suffering from acute morning sickness), but the name game has already begun.
According to The Sun, both betting shops William Hill and Sun Bets have the same top six names already laid out. Being royal means that William and Kate have to follow some traditions, so the name will likely be a common one, much like George and Charlotte. Britons are putting their money on Alice, Elizabeth, and Victoria as the top three if it's a girl.
For a boy, people think it will be Arthur, James, or Albert, though William is also a good bet, too. James is an interesting choice, since it's both a royal name and the name of Kate's younger brother, so it's a win-win for both parents.
Jessica Bridge, a spokesperson for another betting shop called Ladbrokes told Time, "It should come as no surprise to see fairly normal yet regal names top the betting." She added:
The early money suggests punters would love to see Kate and Wills welcome another little girl into their family, who is called Alice.
Other contenders are Diana for a girl or Edward for a boy. Some people have bet on "Donald" for a male, but given the current political climate, that seems very unlikely. But other than that, they're all very good bets. Really, though, whatever name they choose will obviously be perfect.
Kensington Palace announced Kate's pregnancy on Monday morning by issuing a statement saying:
Their royal highnesses the Duke and Duchess of Cambridge are very pleased to announce that the Duchess of Cambridge is expecting their third child. The Queen and members of both families are delighted with the news.
It also noted that Kate wasn't feeling very well, though. "As with her previous two pregnancies, the duchess is suffering from hyperemesis gravidarum. Her royal highness will no longer carry out her planned engagement at the Hornsey Road children's centre in London today. The duchess is being cared for at Kensington Palace," the palace added. Hyperemesis gravidarum is no joke and can require extra hydration and care. During her first pregnancy, Kate was hospitalized for the condition.
Prince Harry, who was out visiting Manchester, told reporters that she was otherwise doing just fine and that he was excited about having another niece or nephew. He didn't seem to mind that he's now going to be sixth in line to become the monarch.
The palace didn't confirm how far along the 35-year-old is, but she's like a few months into her pregnancy. Which means we'll all find out soon enough what the baby's name will be.