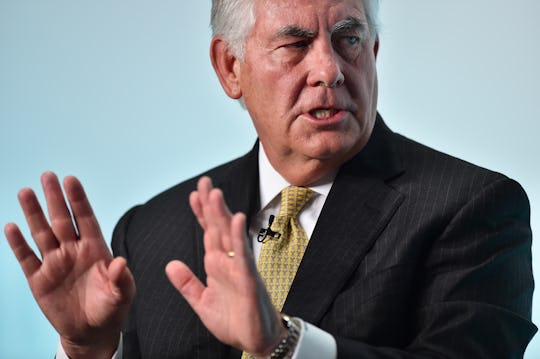 BEN STANSALL/AFP/Getty Images
What Would Rex Tillerson's Salary Be As Secretary Of State? He'd Be Taking A Big Pay Cut
After toying with Mitt Romney's heart for a while, President-elect Donald Trump recently announced Rex Tillerson, the chief executive of ExxonMobil, as his nominee for secretary of state. If Tillerson is confirmed, the multi-millionaire will be taking a big pay cut, although of course he'll be reaping plenty of non-monetary benefits like influence and notoriety. What would Rex Tillerson's salary be as secretary of state? He'd make a mere fraction of his current yearly earnings. Still, it's more than many people dream of pulling in.
According to CNN, Tillerson would make $203,700 per year in his potential new position. (That's gone up a bit since Hillary Clinton, current queen of the woods and winner of the popular vote, held the position in 2011. As secretary of state, Clinton made $186,600 per year.) Compare that to the amount of money Tillerson made last year at ExxonMobil — $24.3 million. As CNN points out, Exxon contributed more to Tillerson's retirement savings account last year than Tillerson will make as his entire yearly secretary of state salary.
But Tillerson can certainly afford to take a pay cut. He's reportedly worth over $150 million. (And still he's not even close to being the richest member of Trump's potential Cabinet, which is full of millionaires and billionaires.) Plus, he was expected to retire in 2017 anyway, once he met ExxonMobil's mandatory retirement age of 65.
Still, Tillerson may not even have the opportunity to take the pay cut. Trump's pick has proved controversial for a few big reasons, most notably his stance on climate change and his relationship with Russia. As critics have pointed out, Tillerson has spent years as the head of an oil company that many have accused of spreading misinformation on the threat of climate change in order to promote its own interests. (According to The New York Times, Tillerson and his team of lawyers have denied those rumors and "led the company in aggressively disputing those reports and in resisting investigations by state attorneys general, including Eric T. Schneiderman of New York, into allegations of a decades-long deception.")
Then there's Russia. Tillerson has done plenty of business with a Russian energy company connected to Vladimir Putin, and in 2013, Putin awarded Tillerson the Order of Friendship, the highest honor for a non-citizen. Russia is a pretty big issue right now, to put it lightly, what with the CIA's finding that the Russians spread misinformation to sway our election.
Other critics have pointed out that Tillerson has no official diplomatic experience, although he has traveled widely and worked with many countries in his business dealings. (Business conflicts of interest are another potential issue with Tillerson's appointment.)
For now, it seems only time will tell whether or not Tillerson will be allowed to take his big pay cut.