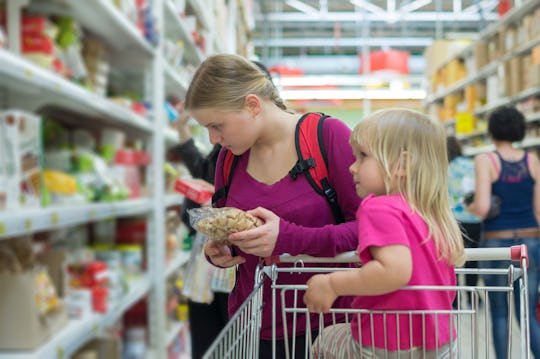 Andrey Burstein/Shutterstock
What You Actually Need For Coronavirus Home Quarantines, According To 2 Doctors & A Prepper
The idea of lining up at the checkout with a cart packed unapologetically high is nothing to parents who do it weekly (what's new?), but the threat of forced sequestration in our homes, with our children, thanks to the COVID-19 pandemic, mean it's worth considering exactly what you might put on your coronavirus outbreak shopping list. The number one thing to keep in mind? Take precautions, but don't panic. We talked to two doctors and a prepper to find out what it truly makes sense to have on hand.
Before running to the store to stock up in case of a quarantine, the Centers for Disease Control and Prevention (CDC) recommends knowing the signs and symptoms of COVID-19, the virus caused by coronavirus, to help stop the spread in the first place. Dr. Latasha Perkins, M.D., a family physician in Washington, D.C., says the coronavirus has symptoms similar to other viruses. "The top three symptoms are fever, cough, and shortness of breath, which mock cold and flu symptoms," she tells Romper. If you have any of these symptoms, see your health care provider — if you do test positive for COVID-19, you'll probably be quarantined to your house.
Other reasons you might be at home include school closings, or if your company decides people should work from home for a period of time. Or, you may need (or decide) to stay home to avoid crowds and minimize your risk. Perkins says you can prepare your home much in the same way you'd prepare yourself for a natural disaster like a hurricane. Just don't forget the wine!