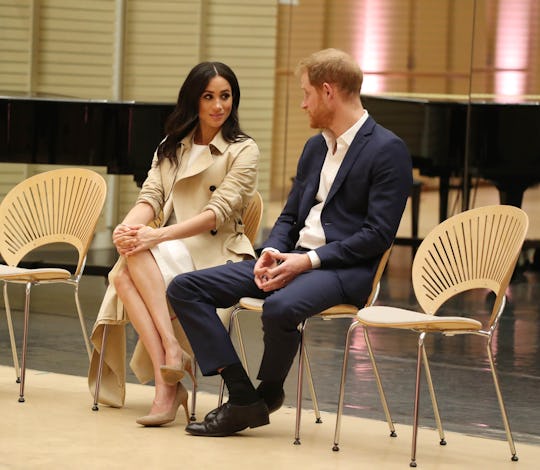 Pool/Getty Images Entertainment/Getty Images
Meghan Markle & Prince Harry's Baby Could Be Born Under A Stubborn Zodiac Sign
The internet is all abuzz with the the latest news out of Kensington Palace: Meghan Markle and Prince Harry are expecting their first baby, just months after the fairy tale wedding we all drooled over not long ago. When the news was officially released on October 15th that Meghan was 12 weeks pregnant, mental calculators around the world began whirring. Although no official due date has been announced, the happy couple expects to welcome their little one this spring. So with that in mind, what zodiac sign will Meghan Markle and Prince Harry's baby be?
The Sun reported that Harry is a Virgo and Meghan is a Leo, but the lack of a definite due date announcement (as well as the possible window of two weeks before and after) has left the royal baby's own sign to be a bit of a question mark. The official announcement out of Kensington Palace said, "Their Royal Highnesses The Duke and Duchess of Sussex are very pleased to announce that The Duchess of Sussex is expecting a baby in the Spring of 2019."
Since "spring" can mean anytime between March and May, there are a whopping four possibilities at play: Pisces (February 20 through March 20), Aries (March 21 through April 20), and Taurus (April 21 through May 21). But considering Meghan Markle is 12 weeks pregnant here in the middle of October, as Cosmopolitan reported, my bet is on the end of April or early May for delivery — making royal baby number four a likely Taurus.
Wondering what a Taurus baby would mean for the royal family? As The Sun explained, individuals who are born under this zodiac sign are "resolute, determined, sensual, physical, and practical." Taureans have a reputation for being highly stubborn, but are also decidedly popular in childhood and throughout life as well, possibly due to their air of self-confidence. As if the royal family wasn't already beloved around the world, the addition of a little Taurus would probably send their likeability soaring even higher.
But what about the second best guess of a sign, the Aries? If he or she arrives just a bit earlier, the world might be blessed with an adventuresome, fiery, and bold pioneer. Typically, Aries is a "solo star," according to Astrostyle.com, "who steals the spotlight" and inspires everyone with their confidence. Now those are character traits everyone could get on board with.
Least likely is that the royal baby would be born a Pisces, but who knows —if Meghan Markle goes into early labor the couple might just find themselves welcoming a compassionate, artistic, gentle son or daughter into the world, which seems completely appropriate for this big-hearted couple.
No matter what zodiac sign this sweet baby is born under, there is no doubt that he or she will be loved immensely — and not just by the onlookers of the world. The official statement by the royal family included the reaction of everyone around the smitten Duke and Duchess of Sussex, and it was pretty sweet: "The Queen, Duke of Edinburgh, Prince of Wales, Duchess of Cornwall, and Duke and Duchess of Cambridge are delighted for the couple."
There has been no news yet of how Prince George and Princess Charlotte received the baby surprise but we can guess that like any children, they will be thrilled to have a new cousin soon — one who could even share a birthday with their own little Prince Louis.
As Glamour reported, Meghan Markle's mom, Doria Ragland, issued a statement through Kensington Palace stating that she was "Very happy at this lovely news and is looking forward to welcoming her first grandchild." Given the close relationship between the two women, months of excitement and giddy baby planning are surely in store, and we couldn't be happier for them.