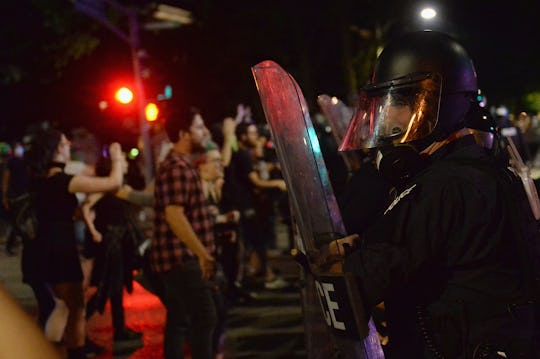 Michael B. Thomas/Getty Images News/Getty Images
Here's What You Need To Know About The St. Louis Protests
In 2011, former St. Louis police officer Jason Stockley fatally shot 24-year-old Anthony Lamar Smith over a suspected drug deal. Smith was in a car, and Stockley maintained that he believed he was acting in self defense at the time. On Friday, Stockley was acquitted of the charges filed against him as the result of the shooting by St. Louis Circuit Judge Timothy Wilson, and protests broke out all over St. Louis as a result.
Stockley was charged with first-degree murder in the shooting of Smith, and the prosecution presented evidence from the police car dash cam to support their assertion that the former officer had planted a revolver in Smith's vehicle after he shot him. Stockley's DNA was found on the revolver, and he could be seen rummaging around in a bag in the back of his police vehicle. Judge Wilson explained in his not guilty verdict that there was not enough evidence to prove Stockley hadn't acted in self defense as he claimed. According to CNN, Judge Wilson wrote in his 30-page decision:
This court ... is simply not firmly convinced of the defendant's guilt. Agonizingly, this court has (pored) over the evidence again and again.
According to NPR, Wilson also wrote in his decision that, based on his 30 years sitting as a judge, Smith probably did have a gun because "an urban heroin dealer not in possession of a firearm would be an anomaly."
Smith's DNA was not found on the revolver.
Once the verdict was made public, protests broke out throughout the city. The protests were initially peaceful, after Missouri Gov. Eric Grietens held a press conference alongside Smith's fiance, Christina Wilson, earlier in the week. The two urged protesters to keep the peace, regardless of the outcome. Wilson said, according to CNN, "However it goes, I ask for peace." Grietens took to his Facebook account to write:
I will protect people's constitutional right to peacefully protest, but violence will not be tolerated. We will protect people's lives, homes, and communities.
Police and activists alike were prepared to see protests, and barricades were erected to protect government buildings. On Friday, St. Louis Police Chief Lawrence O'Toole noted that demonstrators were initially "mostly peaceful," according to Buzzfeed, but things took a turn for the worse after dark.
Hundreds of people took to the streets of St. Louis to protest. Multiple officers were injured, including one officer who suffered a dislocated shoulder and another a broken jaw, and several properties were damaged. Tensions escalated and turned heated especially after a protester broke a window at the mayor's home and police donned riot gear, lobbing tear gas into crowds of demonstrators (some of whom had their children with them carrying signs).
By Saturday, at least 23 people had been arrested in connection with the protests, while further demonstrations were reportedly being organized for the remainder of the weekend. U2 was scheduled to perform at The Dome on Saturday night, but issued a statement via their website telling fans they would have to cancel because city police would not be able to provide, according to Time, "standard protection for our audience as would be expected for an event of this size."
In light of this information, we cannot in good conscience risk our fans' safety by proceeding with tonight's concert. As much as we regret having to cancel, we feel it is the only acceptable course of action in the current environment.
For his part, Stockley (who left the St. Louis police force in 2013 and relocated to Houston) admitted he was relieved to have been acquitted and expressed sympathy for Smith's family, but continued to insist he was not to blame, according to the Associated Press:
I can feel for and I understand what the family is going through, and I know everyone wants someone to blame, but I'm just not the guy.