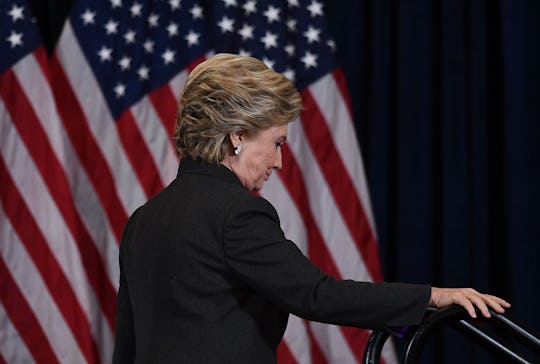 JEWEL SAMAD/AFP/Getty Images
What's Hillary Clinton Doing Now? She's Been Encouraging Supporters & Fellow Democrats
Leading up to the election, former Democratic candidate Hillary Clinton was holding rallies across the country to secure those last few votes and gearing up for a possible transition into the White House in January. After her opponent Donald Trump stunned the world and won the election, however, those plans evaporated. So what's Clinton doing now? What comes next after the former Secretary of State's second presidential loss?
Clinton hasn't addressed these questions point-blank yet — nor has she spoken directly to the public since delivering her concession speech on Nov. 9. After a long and grueling campaign that took up all of Clinton's time, it may be a while before we know what's next for the powerhouse politician who has spent over three decades in governmental roles. In the meantime, however, Clinton has spent her time rightfully resting, recovering, and addressing both the Democratic Party and her campaign staffers.
Just after the election, hiker Margot Gerster ran into Clinton and her husband Bill on a trail in Chappaqua as they were out walking their two dogs. "Ive been feeling so heartbroken since yesterday's election and decided what better way to relax than take my girls hiking," Gerster wrote on Facebook. "As I stepped into the clearing, there she was, Hillary Clinton and Bill with their dogs doing exactly the same thing as I was."
But while Clinton has clearly taken some much-needed time off, she hasn't abandoned the Democratic Party or the supporters and staffers who dedicated their time to her for months. According to the Associated Press, Clinton joined President Obama and members of the Democratic National Committee on a conference call to discuss future steps for the party, then made her own call to House Democrats on Monday. "Our vision for America earned more votes … We can't afford to be discouraged or divided. We are stronger together," she told Democrats on one call, according to The Guardian. "No one is sorrier than me. ... Heartbreaks don't heal overnight, and this one won't."
Clinton also attended a staff party at campaign headquarters in Brooklyn, New York, on Friday, where she reportedly thanked supporters and staffers for their hard work. Earlier that day, she was also on a conference call with key staff and volunteers, where she said, according to Elle:
This is a tough time for our country. I think we have seen how people have been reacting to the events of this election and I know we have got to be reaching out to each other to keep it clear in our own minds that what we did is so important. It looks like we are on the path to winning the popular vote, and that says volumes about the importance of your work and the lasting impact it will have.
According to Elle, Clinton also hinted at continuing the important work she started during her campaign, telling supporters:
This is a hard loss for all of us, because we know what was at stake in this election and we have to do everything we can to continue to support the causes we believe in. ... When you're ready, I hope you will get up and back in there and keep fighting.
So, while Clinton hasn't made her next moves public yet, she's continued spurring on her supporters to fight for change and encouraging Democrats to stay strong. She may never run for president again, but I'm willing to bet that in the coming years, Clinton will continue making a difference for the causes she cares about.