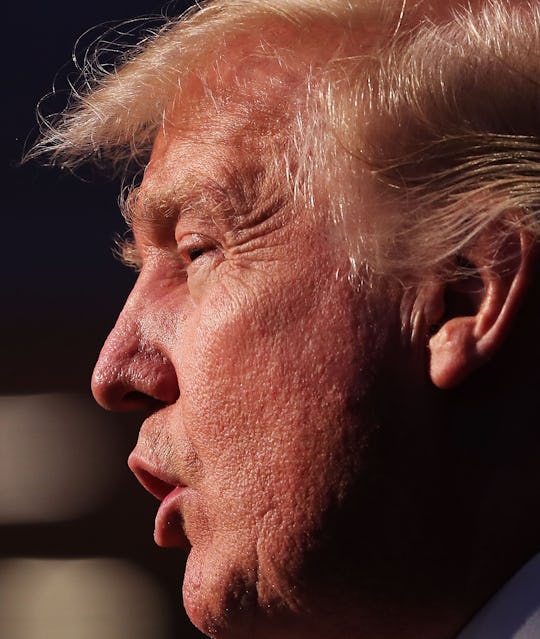 Spencer Platt/Getty Images News/Getty Images
What's In Donald Trump's Education Policy? Not Much
Politicians tend to have their favorite discussion topics, just like all of us. Talking points that they return to again and again because they want to focus on what they know. So many of us waited with bated breath to hear what Donald Trump's education policy might look like — because The Donald hasn't had much to say about education so far, has he? No, he's been too focused on walls and emails and Russia and "Crooked Hillary" to talk education. Now that he's finally letting us mere mortals in on his plans for the (admittedly) dire state of American schools, I can sum up his policy for you with one ineffectual sound: Meh.
Trump gave a speech at the Cleveland Arts and Social Sciences Academy on Thursday. The Cleveland Arts and Social Sciences Academy is a charter school owned by Ron Packard, who was in attendance to hear Trump's speech. While Democratic Presidential nominee and former Secretary of State Hillary Clinton has already announced a new policy that would offer free tuition to public colleges and universities for students from families earning less than $125,000 per year (a modified version of Vermont Sen. Bernie Sanders bid to offer free tuition), Trump has been pointedly quiet on the subject until now.
When he finally spoke out, it might have had some of you thinking, "Oh here we go, Trump is finally going to tell us about his amazing plans for better and more accessible education. He might finally win over a few millenial voters, despite the fact that he consistently polls abysmally with the under-30 set!"
Nope.
In his policy speech, Trump said:
I want every single inner city child in America who is today trapped in a failing school to have the freedom, the civil right, to attend the school of their choice. Their parents will choose the finest school. They will attend that school. This includes private schools, traditional public schools, magnet schools, and charter schools which must be included in any definition of school choice. Our government spends more than enough money to easily pay for this initiative with billions and billions to be left over. It's simply a matter of putting the students first, not the education bureaucracy and that's what's happened.
How exactly does he plan to go about making such sweeping changes? His administration would use a block grant of $20 billion dollars sent out to every state, which the states would be responsible for allocating to the estimated 11 million under-privileged children to help them enroll in the school of their family's preference. Where would Trump get that sort of money? His administration would simply cut out some other programs (although the education plan never specified which programs would need to be cut).
Trump also failed to outline exactly how each state should be structuring the grants he has proposed:
Each state will develop its own formula, but the dollars should follow the student.
As for the teachers, they can forget about tenure; Trump would prefer a system of national merit pay as he believes the tenure system rewards bad teachers and fails to acknowledge those teachers who excel in the classroom. How precisely he intends to do that, however, is a secret I guess.
In short, Trump's education plan is just a lot of gravy with no meat.