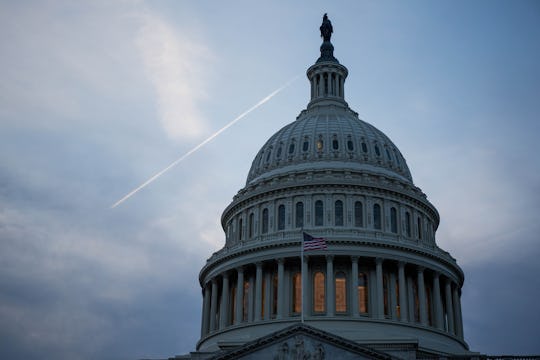 Zach Gibson/Getty Images News/Getty Images
What's In The Spending Bill Congress Just Passed? Not Everyone Got What They Wanted
Congress has bypassed a government shutdown a day ahead of its deadline after the House approved a new, yet temporary spending bill. But not everyone got exactly what they wanted, and many are uncertain about what will happen to the federal funding at the end of April next year, which is as long as the budget can last to keep governmental agencies functioning. So, what's in the spending bill Congress just passed? It was passed in a landslide on Thursday, easily in favor of the Republican-led House with reportedly 326 votes for the new legislation and 96 against it.
According to PBS, one major dispute is a provision in the bill that will temporarily extend health care benefits for nearly 120,000 retired union coal miners, who are at risk of losing their coverage by Dec. 31, as many of the companies the retirees worked for have declared bankruptcy in recent years. In 1946, President Harry Truman passed a measure that guarantees miners have lifetime health and retirement benefits, but a plan on how to handle the lack of funds has caused a divide among coal-state Republicans.
While many support saving the workers' retirement and healthcare benefits, some GOP leaders — like Kentucky Sen. Mitch McConnell — have opposed a bailout over the pension crisis. PBS reports that McConnell did say earlier this week that health care help for miners would be part of the spending bill, but it's unclear how they will be taken care of.
Another provision in the spending bill will make it easier for President-elect Donald Trump to get confirmation for retired Marine Gen. James Mattis, whom he has tapped to be the next defense secretary; Up until now, the decision has been a bit tricky to follow through on, as a federal law states that defense secretaries must not have been on active military duty in the past seven years. Mattis hung up his uniform in 2013, meaning it's only been four years since he was last active in the military.
According to Reuters, Republicans "demanded ... to help Mattis get around" the seven-year requirement and have included language in the 1,000 page document to help speed the process of securing the necessary congressional waiver.
More specifically, the bill also contains $5.8 billion for overseas military operations against the Islamic State, and another $4.1 billion will go towards rebuilding communities after a natural disaster, like floods, hurricanes, and tornadoes. Additionally, PBS reports that $170 million will be used to help Flint, Michigan repair its lead-tainted water system.
As a part of the $1 trillion fund, billions of dollars in funding will also go towards cancer research, the fight against the spike in opioid abuse and addictive drugs like heroin, as well as mental health treatment.
Also, as a last-minute discussion, lawmakers requested $35 million of the budget to be used to reimburse New York City police for assisting the Secret Service in protecting Trump, whose home is in midtown Manhattan.
While Speaker Paul Ryan said on Tuesday that the overall spending measure will keep the government running until next spring, the stopgap funding bill was also something of a victory, as the Republican-led Congress and the Obama administration have not been able to agree on how to spend federal funds on a number of issues. The new measure means that Trump, who will be sworn into office on Jan. 20, will be able to make some key spending decisions of his own.