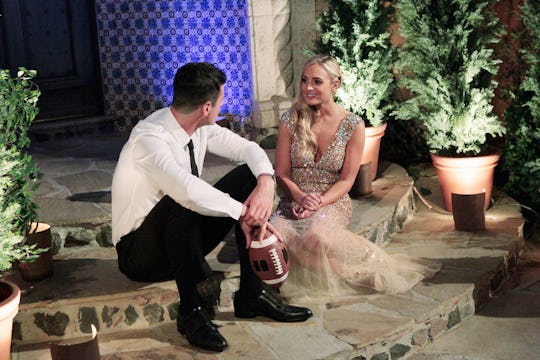 Rick Rowell/Disney ABC Television Group
What's The Deal With Leah's Black Eye On 'The Bachelor'? Episode 6 Didn't Explain It
Okay, Bachelor, you don't just get to show fans a contestant with a black eye and then just never explain it. What's the deal with Leah Block's black eye and why has the context not graced fans' screens yet? The promo before Monday's episode hinted at a punching match between Leah Block and Lace Morris, but the scene was never actually presented in the episode. That's like promising to bring over pizza and then showing up empty-handed, ABC. Not cool.
In the promo, 25-year-old Leah says, "She hit me in the face," before the camera flashes to a smug-looking Lace. And yet, Lace left The Bachelor back in January, and Leah never really entered into too much of the show's drama at that point. Things did, however, recently get nasty between Leah and Lauren B., and Leah took on a bit more of a villainous role than she usually does, using some extra time with Ben Higgins to air her grievances about Lauren B. Since he's a stand-up kind of guy, he didn't gossip and instead went straight to Lauren B. to talk it out.
Somehow, Lauren B. and the other contestants found out that Leah had orchestrated that bit of drama, so it's fair to wonder... did Lauren B. punch Leah? It would seem a bit extreme, especially coming from Lauren B., but it's reality TV — stranger things have happened. ABC and Leah Block did not immediately respond to Romper's request for comment about what happened to cause Leah's black eye.
Either way, badmouthing The Bachelor's seemingly favorite contestant didn't work out so well for Leah, who was eliminated. Generally, an elimination is a good thing, since it takes fans one step closer to finding out who wins the season — but in this case, it means fans will never know how Leah got a black eye.
It may have been Lace or Lauren B., it may have been another contestant tired of her hijinks, or it could have been some group date mishap. Having a troupe of women all compete for one man definitely lends itself to some interesting and dramatic moments, but sometimes the promos are cut together to seem even more so. In Chris Soules' season, The Bachelor worked hard to make it seem like Ashley Iaconetti was pregnant, and Ashley told Glamour that she hadn't even spoken the pregnancy line that they pushed in multiple promos. (I would be terrified to go on this show.)
Compared to that, what's a little creative promo about a bruise? Hopefully someone else on The Bachelor will bring up Leah's mishap and elucidate the masses — otherwise, it sounds like it'll be another Bachelor mystery.