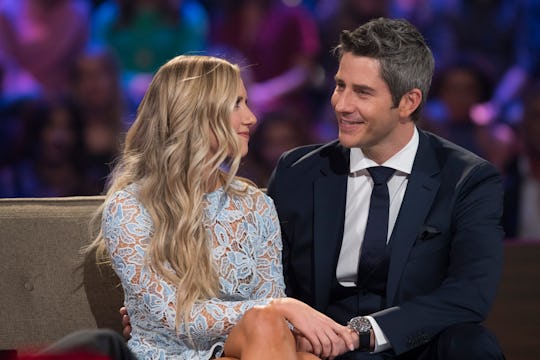 ABC/Paul Hebert
Yes, Arie & Lauren Are Still Engaged -- Find Out Their Wedding Date & Details
It might be time to watch Becca Kufrin find love on The Bachelorette, but we can't forget the horrific break up she endured at the end of The Bachelor. As you might remember, Arie dumped Becca as cameras rolled for the world to watch during The Bachelor finale. Why? So that he could ultimately choose the runner up contestant, Lauren Burnham, who he later proposed to on live television. So that begs the question: when are Arie and Lauren getting married? It's actually much sooner than anyone expected!
Arie and Lauren announced on Wednesday, May 23, that they will be getting married on January 12, 2019, as reported by People. The excited soon-to-be newlyweds shared the news during an appearance on morning talk show, The View, revealing they have planned a destination wedding in Hawaii. And before you ask your next burning question, the answer is no. No, Arie and Lauren won't be filming their wedding to be shown on television because they've chosen to keep the event private. While this is all very happy news for Arie and Lauren, it came at a super awkward time -- the week before Becca's season of The Bachelorette premieres on Monday, May 28.
We're thrilled for Arie and Lauren, really, but why did this need to be announced as Becca was gearing up for her own show? Arie had his time, as did Lauren, so now it's Becca's moment to shine and, hopefully, find the real love of her life. Instead of letting the world stand behind Becca as her season of The Bachelorette approaches, Arie and Lauren went on national TV to announce their wedding details. No, not just a date and location... but the actual venue. Fans noticed the shady move, too, and sounded off on Twitter after the announcement.
Someone else who noticed the awkward timing? One of The View co-hosts, Meghan McCain, who didn't hesitate to ask why they chose the week they did to make this announcement. "Um," Lauren responded first, hesitating and turning to Arie before finishing her answer. "Honestly I don't think we really had much control over that." Arie quickly chimed in, claiming the time was nothing more than a coincidence. "Yeah, I think our plan just kind of came together," the former Bachelor star said. "So it just happens to be the timing of things. Yeah, but we're just excited."
Despite the timing, Becca continues to take the high road in the situation. "I'm truly happy and I do wish them the best," The Bachelorette star told reporters after Arie and Lauren made their announcement. You have to love Becca for that, because she could have easily thrown a mass amount of shade at her ex and his future wife for stealing her thunder. However, Becca is committed to moving on from what some believe was the worst break up in Bachelor history. Instead, she's focusing on her own future wedding -- because, yes, she is now engaged after filming The Bachelorette!
Isn't it exciting to hear that Becca is finally getting the happy ending she so deserves? Unfortunately, fans of The Bachelorette are going to have to wait until the season finale to find out who it is that Becca picks to be her future husband. Until then we can all tune in to watch The Bachelorette every Monday at 8pm ET on ABC as Becca goes on her journey to find the love of her life. Er, again.
Curious about the contestants on Becca's season of The Bachelorette? Maybe you should head on over and get a jump start on following them on Instagram! You're welcome.