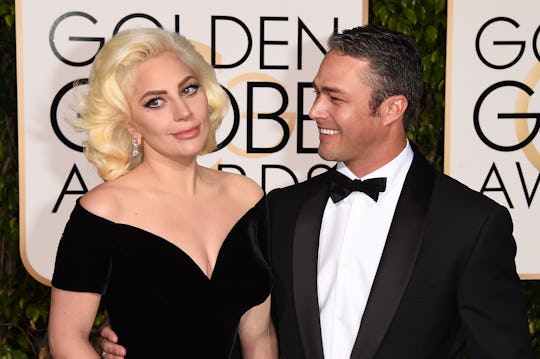 Jason Merritt/Getty Images Entertainment
When Are Lady Gaga & Taylor Kinney Getting Married? They've Been Very Secretive
Lady Gaga is on a major roll. She's just won a Golden Globe, has been nominated for an Academy Award and completely nailed the national anthem at the Super Bowl. Now she'll be heading to the Grammys with a "Song of the Year" nomination for "Til it Happens to You," the same song that's already earned her so much acclaim. So, now that's she's obviously in the celebrating spirit, when are Gaga and Taylor Kinney getting married? After the Grammys might be the perfect timing. It sure seems like just the way to wrap up an epic few weeks, right?
Gaga and Kinney have been dating since 2011 when they met on the shoot for the video for "You and I" and got engaged last Valentine's Day when he gave her an amaze-balls heart-shaped diamond.
Here's the gorgeous couple at the Golden Globes.
In an interview with People last month, Kinney said the couple wants to keep the date "a surprise" but did let everyone know that Gaga is definitely the one overseeing all the details.
During an appearance on the "Meredith Viera Show" last October, Kinney gave some hint about the wedding plans when he revealed Gaga wants a big wedding, but that their crazy-busy schedules make setting a date complicated. Still, he told Viera that it would happen in 2016.
But of course, we're talking about Gaga, who always knows how to make a fashion statement. So, the one thing everyone is dying to see is the wedding dress. Gaga has previously said she doesn't have anything specific in mind for her dress, except that she's planning to dress for Taylor.
"It's all about my man," she told Women's Wear Daily with a dash of her signature Gaga romance, according to POPSUGAR.
Unable to wait for Gaga's big reveal WWD had a group of 34 designers imagine what the dress might look like. Who knows if any of them are close, but it sure is fun to see what they were able to dream up for Lady Gaga's wedding dress.
In the meantime everyone will keep speculating about the wedding from the dress, which will definitely be a show stopper, to who will make the guest list, to the location, food, and music. With all of Gaga's friends in the music business, it's likely she could call in a favor or two and score some serious live performances. Hello? Sir Elton John made Gaga the godmother to both of his sons. Surely he could do a number at her wedding?
Just a suggestion.