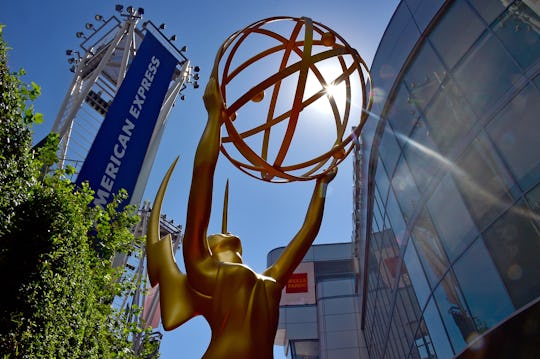 Frazer Harrison/Getty Images Entertainment/Getty Images
When Are The 2018 Emmys? Award Season Is Upon Us
This morning when I was walking my dog I noticed the leaves have started to change ever so slightly. You know what this means, of course. Fall is coming. And for once, I'm ready for it. Ready to pull on a sweater and go for hikes and yes, okay, drink lattes and eat pumpkin everything and bake cookies. Most of all, though, I'm ready for awards season to start. Because fall brings the glorious, glamorous stars out for awards season, and it's about to begin. First on the docket are the Emmys. And if you're wondering when the 2018 Emmys start, you barely have to wait any time at all.
The 2018 Emmys will get under way in just a few weeks time, I'm seriously happy to report. The television awards show, which is now in its 70th year, is set to go live from the Microsoft Theater in Los Angeles, California on Monday, Sept. 16. This year the Emmys will be hosted by Saturday Night Live cast members Michael Che and Colin Jost, who also host Weekend Update on SNL. NBC Chairman Robert Greenblatt said in a statement about the upcoming show, according to Us Weekly; "NBC is thrilled to be the home of this year's Emmy Awards and with Colin and Michael in the driver's seat as hosts, along with surprise appearances by other cast members of Saturday Night Live, I think we are in for one of the funniest awards shows in a long time."
So why am I so excited to watch the Emmys, you ask? Well I'll tell you why. Television has just gotten so good over the past few years that sometimes it's difficult to keep up with all of the new things that are out there to binge watch. It could actually be a full time job, just keeping up with excellent programming, especially when you have to factor in all of that life-living and seeing other humans and buying groceries and such. But when the Emmy nominees are announced it gives me a chance to do a little reconnaissance work to see what shows I might like. I mean, I already know about Game of Thrones, the show to garner the most Emmy nominations for 2018, of course. After being ineligible in 2017 because of its summer debut, HBO's flagship series drew a solid 22 nominations. And earned every single one, in my opinion.
But there are other nominees this year that I haven't had a chance to watch. I might be the last Gilmore Girls fan on earth who hasn't caught Marvelous Mrs. Maisel, Amy Sherman-Palladino's 50s-era series for Amazon Prime that was nominated for 14 Emmys this year including Best Lead Performance by an Actress for Rachel Brosnahan.
Some other nominated series I've been meaning to catch are The Americans, Baskets, and Silicon Valley. And I'm sure once I'm curled up in my pajamas on the sofa with my snacks and probably my wine, the 2018 Emmys will offer me even more possible series I need to start watching. Plus, there's the fashion I'm dying to see. The guys not so much but the ladies always really bring it. And let's not forget the presenters; when the producers of the Emmys put together weird combinations of actors we've never seen together before and make them read from those scripts? That's television magic for you right there. This year Millie Bobby Brown, Kit Harrington, Tina Fey, and Kate MacKinnon are just a few of the presenters who have been announced. I hope they all present an award together... that would really make my night.
Bring on award season!