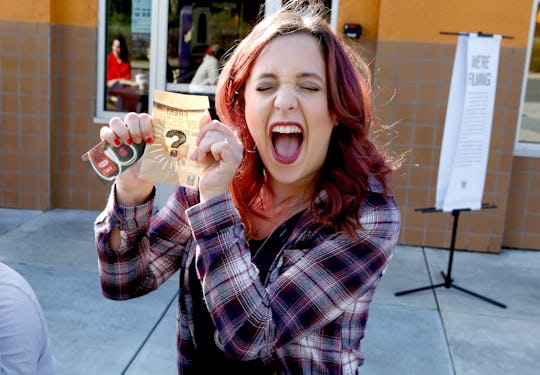 Randy Shropshire/Getty Images for Taco Bell
When Can You Buy Taco Bell's Quesalupa? It's Finally Here & It Looks Delicious
Who cares whether it's Denver or Carolina taking home the Super Bowl trophy after the game? All I really care about is when you can buy Taco Bell's quesalupa mystery product, and I know I'm not alone. Rumors have been swirling for weeks now on what Taco Bell's mystery product could be, and even James Harden, who starred in the commercial teasing the product, has absolutely no clue what the company's up to. It's all a big mystery, but the biggest of all is when you'll actually be able to enjoy whatever it is they're selling (and that's assuming it's food). But tonight we finally have an answer. Taco Bell is selling a quesalupa, and it looks heavenly.
Taco Bell announced you could pre-order the mystery product, and that pre-orders started at $2.99 each and were limited to five per order. But even though you know how to pre-order Taco Bell's mystery product, up until tonight there was absolutely no telling what it even was. In a press release by the company released to Business Insider, Marisa Thalberg, chief marketing officer, said:
As part of the next phase of our big reveal, we've created a pre-order program on Ta.co that will give people special access to try it a full two days before everyone else. There's just one thing: it's a 'blind' pre-order. Trust us, though; it's worth it.
Yet there's still no telling what, exactly, the mystery item is. Good news for the "special access" people, who've no doubt already tried the product by this point. The company even went so far as to send Business Insider private YouTube videos further teasing the product and its launch, but they were set to private, so not even Business Insider could watch them. I give them credit — there's no better way to generate buzz surrounding a new launch, and Taco Bell kept everyone on the edge of their seats with its impending reveal.
Details are pretty slim at the moment, but here's assuming that the quesalupa will be available at Taco Bell locations around the country — and if you're wondering where I'll be, I'll be in line. Waiting for a quesalupa. Bye.