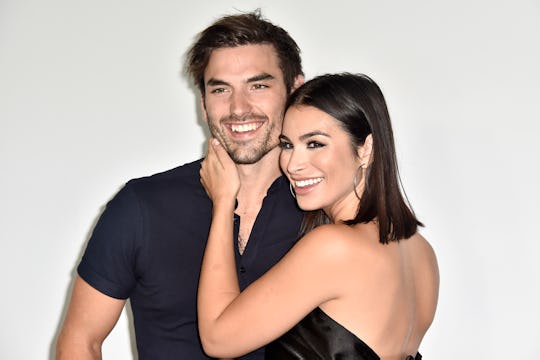 Frazer Harrison/Getty Images Entertainment/Getty Images
Here's When Ashley I. & Jared Haibon *Actually* Got Engaged
Yes, it is really happening! Two of Bachelor Nation's alums have found true love, and now Ashley Iaconetti and Jared Haibon are getting married. While Bachelor In Paradise fans were able to watch the proposal go down on the Sept. 3 episode, when did Ashley Iaconetti and Jared Haibon get engaged? Believe it or not, the actual proposal only happened three months before the special moment aired on Bachelor In Paradise.
Haibon got down on one knee and asked Ashley I. to spend forever with him in June 2018, as PEOPLE reported. The couple could hardly contain their excitement, which is why the news broke months before their Bachelor In Paradise episode. In fact, Ashley I. and Haibon sat down to film a 44-minute video in which they share what they call, "The Story Of Us" for YouTube, which you can watch below. However, their Bachelor In Paradise proposal was a real full circle moment for them, because as diehard fans know they had a rocky start back in 2015 on the show's second season, as PEOPLE also reported. Thankfully, this Bachelor In Paradise couple are finally ready for the happily ever after they've been waiting for.
In the promotion for the big proposal, Bachelor host, Chris Harrison, introduces Ashley I. and Haibon to the contestants while they are all gathered together. Harrison tells the contestants that Ashley I. and Haibon are there to talk to each couple before deciding who gets the date card. Then, after Harrison sends Ashley I. and Haibon down to the beach to get ready for their conversations, the host reveals that the Bachelor In Paradise "success story" couple are actually there for another reason.
"So guys, this is not the reason Ashley and Jared are here. They're here for a completely different reason," Harrison tells the contestants, who seem surprised. "Come join me." The host then leads the contestants down to the beach where Haibon has already put the proposal wheels in motion. He and Ashley I. are now back on the same beach they met on in 2015, and, to be honest, they can't keep their hands — or lips — off of each other.
"Three years ago we met right at this spot," Haibon tells Ashley I., who definitely doesn't appear to know what's about to happen, in a video on PEOPLE. "I don't ever want another day to go by that I don't kiss you and tell you how beautiful you are and how much you mean to me. You've made me the happiest man alive." Meanwhile, as Haibon is laying on the romance, the Bachelor In Paradise contestants looked on in tears — happy tears, of course!
And then it happens: Haibon pulls out the ring, gets down on one knee, and asks Ashley I. to be his lawfully wedded wife. Ashley I. appears about as vibrant as the yellow dress she's wearing once she realizes what's happening. Obviously, you already know that she said yes!
While the proposal was incredibly romantic and proved that all hope isn't lost when it comes to Bachelor In Paradise couples, it really changed the vibe of the Sept. 3 episode. After Colton and Tia broke up and left the show, then multiple other couples were left in turmoil by the arrival of two new women on the show, watching Ashley I. and Haibon get their long-awaited happy ending revived the hearts of the current Bachelor In Paradise contestants. Now, lets just hope for a televised wedding!