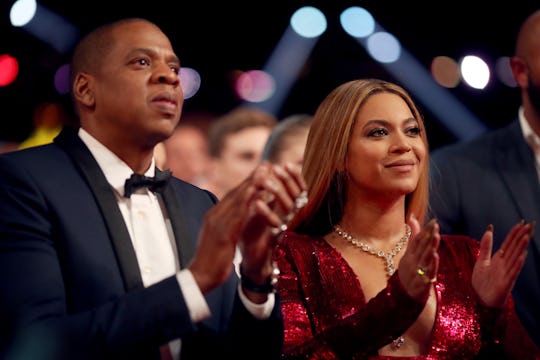 Christopher Polk/Getty Images Entertainment/Getty Images
When Did Beyoncé & JAY-Z Renew Their Vows? Their 10th Anniversary Was In April
As you might know by now, Beyoncé and JAY-Z kicked of their "On the Run Tour II" Wednesday in Cardiff, UK. The epic event has been highly-anticipated ever since the tour was announced back in March. So you can bet fans were ready to hear every detail when the kick-off went down. One thing no one at the concert missed was a video clip that appears to show the power couple — with Bey in what looks like a wedding gown — celebrating their commitment to one another alongside their three children. But when did Beyonce and JAY-Z renew their vows? They celebrated their 10th anniversary this spring, after all. (Romper reached out to Beyoncé's rep for comment but did not hear back at the time of publication.)
People report that a video taken at the singer couple's kickoff show last night shows them in all-white clothing, alongside 6-year-old daughter, Blue Ivy, and 11-month-old twins, Rumi and Sir. "THIS IS REAL LOVE" was projected during the film while Beyoncé and Jay-Z sang a duet from 2009, "Young Forever." Considering they recently celebrated 10 years of marriage on April 4, it would make sense if they decided to celebrate this milestone with an anniversary party/vow-renewal in one fell swoop, right? By the way, their twins turn 1 on June 13 — so they would have been nearly 10 months old on their parents' anniversary. And based on my not-so-expert analysis, Sir and Rumi could definitely pass for 10-month-old babies in the video clip. See for yourself!
Still, it's hard to say for sure when the ceremony actually went down. (Or, whether the couple, clad in all white, even renewed their vows in the first place.) Adding to the vow-renewal rumors, Beyoncé's mother Tina Lawson also shared the still on her Instagram account following the concert, E! Online reported. "My babies," Lawson captioned her post, alongside three heart emojis.
Let's just say the Twitter-verse has a lot of feelings about the apparent vow-renewal. "I'm not crying watching the video of Jay-Z and Beyonce renew their vows YOU'RE crying," one Twitter user wrote.
"Beyonce and Jay-Z renewed their vows.... somebody cutting onions in here?" another person tweeted, along with crying emojis.
Others were seriously impressed that news of the power couple renewing their vows didn't leak before they decided to share it for themselves. "Beyonce and Jay-Z renew their vows and nobody knew," one Twitter user wrote. "That's how private I want to be."
Another Twitter user's whole perspective on love changed after seeing the clip. "Beyoncé and Jay-Z renewed their vows.I suddenly believe in love again," they tweeted.
As fans are well-aware, Beyoncé and JAY-Z have gone through a number of rough patches during their relationship — and tabloid rumors haven't exactly done much to help the situation. Although the details are murky, Beyoncé appears to address her husband's reported infidelity in her 2016 album Lemonade, Cosmopolitan reported. And in April 2018, JAY-Z himself acknowledged his past transgressions during an interview with David Letterman. "Much like you, I have a beautiful wife who's understanding and knew I'm not the worst of what I've done," JAY-Z told Letterman. "We did the hard work of going to therapy and you know, we love each other, right?" The singer continued:
So we really put in the work. Like you, I like to believe we're in a better place today. But we're still working and communicating and growing. And I'm proud of the father and the husband that I am today because of all the work that was done.
So yeah. It's true Beyoncé and JAY-Z have been through a lot of you-know-what since they started dating back in 2002. But after three children, countless records and tours — and even the reported unfaithfulness — they appear to be happy together. And if they did recently renew their vows, doing so on/near their 10th wedding anniversary seems like it would be the perfect way to say, "We did it, babe. And we're in it for the long haul."