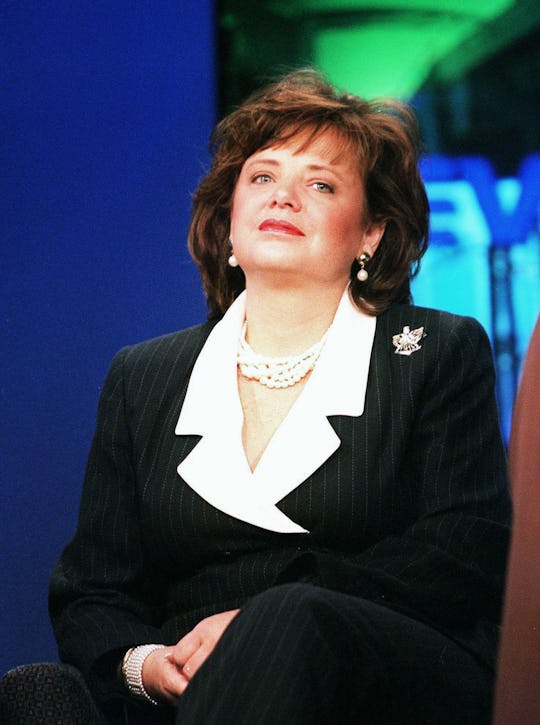 MARIO TAMA/AFP/Getty Images
When Did Patsy Ramsey Die? JonBenet's Mother Passed Away A Decade After Her Daughter
Unsolved crimes hold a particular fascination and bring out the amateur detective in all of us, so it was no surprise when CBS announced their intention to explore in-depth the Boulder, Colorado unsolved murder of JonBenét Ramsey, a six-year-old beauty queen found dead in her own home nearly 20 years ago, with a new mini-series. No arrests were ever made, though at the time unproven public scrutiny hit the Ramsey family hard, including the child's late mother. But when did Patsy Ramsey die?
Patsy passed away on June 24, 2006, after a long battle with ovarian cancer. According to the NBC News report announcing Patsy's death, she was initially diagnosed in 1993 – several years prior to her daughter's murder. After a years-long remission, doctors found evidence that the cancer had returned by 2002, as reported by the Denver Channel at the time. Patsy's death, in her father's Atlanta, Georgia home, came nine-and-a-half years after the death of her daughter JonBenét.
Though some members of the public believed that one of the Ramsey family members might have been linked to the death of JonBenét, none of the Ramsey's have every been charged with any connection to the crime. In 2008, the New York Times even reported that DNA evidence had been examined with new technology – the DNA of an unidentified male was found on the young girl's clothing matched blood previously found on her clothing, and specifically did not match any member of the family. Presumably (according to the New York Times), this DNA would belong to JonBenét's killer, who was thought to have handled her clothing during or after the crime. The Boulder county district attorney at the time formally exonerated the Ramsey family and issued a letter of apology, in light of the evidence.
Of course, the Ramsey's faced a lot of public scrutiny, which John Ramsey said was, "nauseating beyond belief" in an interview he and Patsy gave to CNN shortly after JonBenét's death. Patsy was a figure of heavy public scrutiny shortly after the murder – herself a former beauty queen (1977 Miss West Virginia), Patsy garnered criticism from the public. According to People, at one point some experts believed that Patsy herself wrote the note — although there was never any proof of that allegation.
True crime has always been a fixation for the public, and that fixation has only skyrocketed in recent years, as true crime stories have jumped from the pages of novels to our podcasts and TV screens.
With the proliferation of true crime media over the past two years – starting with the smash-hit podcast Serial and continuing with Netflix's Emmy-nominated Making A Murderer – it has become very clear that media can actually make a real difference in the outcomes of these cases. Adnan Syed, the convicted suspect at the center of Serial's investigation, was recently granted a new trial. Brendan Dassey, one of the two convicted suspects whose cases were discussed in Making A Murderer, actually had his conviction overturned earlier in August and is set to be released, pending a new trial brought against him by the state.
It is entirely possible that CBS' JonBenét mini-series, in which a group of experts have come together with the sole purpose of re-examining solving the case using their expertise and the latest technology, will figure out who the real murderer is. The Case Of: JonBenét Ramsey is set to debut on September 18 on CBS.