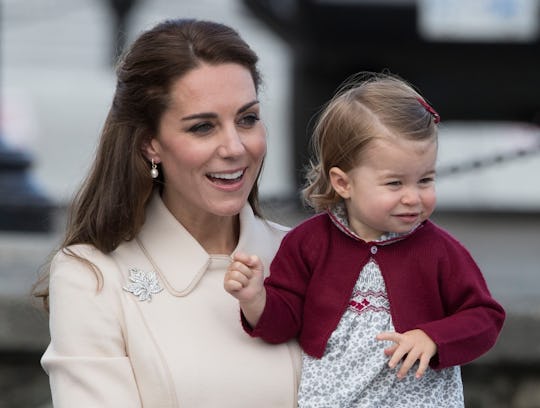 Pool/Getty Images Entertainment/Getty Images
Here's When The Royal Family Announced Princess Charlotte's Name, In Case You're Taking Bets
Of course, the whole world was thrilled that the third royal baby arrived on Monday and is as healthy as can be. But this is 2018 and the news cycle moves fast, so it's only to be expected that people want to know more about the little guy. Is he sleeping? Do the other kids love him? And, most importantly, what's his name? The public may never know some of those things about him, but we do have other royal precedents to go on when it comes to the name. So, looking back at the last royal birth, when did Prince William and Kate Middleton announce Princess Charlotte's name after she was born back in 2015?
Or not. It's now been two full days at the time of writing since the third royal baby was introduced to the world. And Princess Charlotte's full name was announced via tweet just two days after her birth, as The Daily Express reported. So was her brother Prince George's in 2013, though that was before Kensington Palace was on Twitter, so his name was released via a statement from Clarence House.
It's been two days, so where is this royal baby's name? Are they bickering about it or does the queen just like watching all of us squirm? Me thinks the latter. Then again, the two-day turnaround for time was seen as a break from palace tradition back then. According to The Sun, Princess Diana didn't release Prince William's name for an entire month after his birth.
There could be a more practical reason than just not feeling like tweeting out the baby's name or following Princess Diana's tradition of waiting some weeks before making the big announcement. Wednesday was Anzac Day, which is a day of remembrance for both New Zealand and Australian soldiers who died during wars.
Prince Harry and Meghan Markle, along with Prince William, attended various celebrations throughout the day. Hopefully, Middleton was home with the new baby thinking of what to name him.
But seriously, Anzac Day is a solemn holiday that the royal family observes. It makes sense that Prince William and Middleton wouldn't want to announce a baby name and take people's attention away from the importance of the day.
If they announced the name, it would have turned the conversation right back to the royal family (especially since so many people have actual money riding on what they'll name their third child) and that's bad form. It would be like Michelle Obama announcing she and Barack were having another kid on Memorial Day. Not a good look.
So the baby's name could be announced as soon as tomorrow or, really, whenever they feel like telling the world. With all of the attention on celebrity pregnancies, births, maternity looks, and everything else that goes along with having a child in the public eye, it totally makes sense that Prince William and Middleton would want to wait a minute before making yet another announcement.
According to Us Weekly, there are a few top contenders for what the family will name the fifth in line to the throne. Arthur, Albert, and James are the top picks, according to the outlet. Albert is a good bet, since it not only honors Queen Victoria's husband, Prince Albert, but also Queen Elizabeth II's father, King George VI, who went by Albert until he took the throne.
Since Prince William and Middleton's eldest is named George, Albert would be a good way to go. Royal expert Kate Williams told CNN that she's keeping her mind open. "We haven't had so many called Arthur, but it does hark back to the mythical first king of Britain," she said.
Whatever the couple decides, it will likely be just perfect. But let's hope they tell us all soon so everyone can just move on with their lives.
Check out Romper's new video series, Bearing The Motherload, where disagreeing parents from different sides of an issue sit down with a mediator and talk about how to support (and not judge) each other's parenting perspectives. New episodes air Mondays on Facebook.