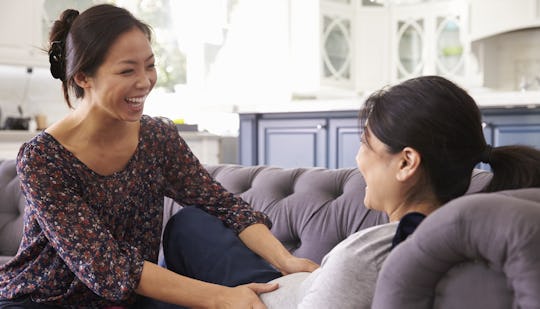 Monkey Business/Fotolia
When Do You Hire A Doula During Pregnancy? They Can Be Hugely Supportive
Once you turn a pregnancy test, there are a lot of moving parts to consider and timelines to hit. You'll have appointments to make, healthcare providers to reach out to, and childbirth classes to organize. Some stuff, like buying baby clothes, can wait a few weeks, but when do you hire a doula during pregnancy? It's not like you need one right away, right? Turns out, if you're planning on having one on your birth team when D-day arrives, you won't want to wait too long.
Most people think of a doula as a birthing coach and assume that they're only with you when you're actually giving birth. They are especially helpful with providing relaxation and breathing techniques, laboring positions, and giving massages to help you manage pain during childbirth. Doulas are also helpful for your partner and can show them how to be supportive of you. But doulas can provide so much more support than just during labor — they can help before and after your baby is born as well.
The American Pregnancy Association (APA) noted that most doula-client relationships begin a few months before the baby is due. During this period, they develop a relationship with the mother where she can ask questions, create a birth plan, and express any concerns she may have before going into labor. Doulas are not medical professionals, but they most certainly can offer support and advice to soon-to-be moms during pregnancy.
Liza Maltz, a birth and postpartum doula believes "the sooner the better" when it comes to hiring a doula. "How great to have someone to talk to throughout your pregnancy to help guide you through all the questions you have," she tells Romper in an email interview. "Although, I have had a client sign on while in labor."
As far as support after labor, doulas can help you with breastfeeding techniques and encourage bonding with your new baby. They are there to help you and your partner feel confident in becoming new parents, and according to the APA, other duties they can perform include light housekeeping, running errands, diapering, bathing and feeding a newborn, light meal prep, sibling care, and offering referrals to local parenting classes. This help can last for a few days up to a few weeks.
Before you even go into labor, a doula is there to help you form a birthing plan and to make sure your doctors and nurses stick with that plan the best they can. Your doula is your advocate and voice when you're either in too much pain to have one, or don't feel comfortable with making your wishes known to your birthing team. If hiring a doula sounds like something you'd be interested in, you can find which doulas are available in your area. To really get the best, most inclusive care, it might help to hire one as soon as you can.