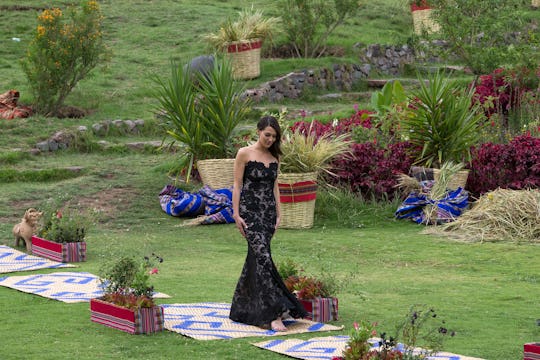 Paul Hebert/ABC
The Next 'Bachelorette' Was Finally Revealed On 'After The Final Rose'
It's hard to imagine not having Monday nights dedicated to The Bachelor —especially because it's been that way since New Year's Day. Thankfully, Bachelor Nation has The Bachelorette to look forward to soon. So when does Becca's Bachelorette season premiere? ABC hasn't announced it yet, but viewers can look at previous seasons to get some hints.
During Seasons 1 through 3 of The Bachelorette, it actually aired during the spot The Bachelor holds now: January through March. Beginning in Season 4 and up until now, however, the show has aired from May through the end of July or beginning of August. Rachel Lindsay's season of The Bachelorette, for example, began on May 22 last year. So, will Becca's season of The Bachelorette be the same?
The past two nights have been the most dramatic of this season of The Bachelor. I'm going to be honest: Becca has arguably the best Bachelorette origin story of all time. Arie initially proposed to her in Peru, but then broke it off a few weeks later. During their (short) engagement, Arie reached out to Lauren because he regretted proposing and couldn't stop thinking about her. Soon after, Arie gathered an entire camera crew and split up with Becca.
On After the Final Rose, Arie pretty much mansplained why he did all of this: proposing to Becca when his heart wasn't in it, breaking up weeks later, talking to Lauren when they were still together, the whole bit. He said he felt "pressure" for being The Bachelor, and like he was on a timeline and that he had to propose. He seemed to blame everyone but himself, and he hurt Becca in the process.
Becca was the classiest act ever when she talked to Arie, but her pain was definitely there. She said Arie robbed her of a first engagement, a first proposal. She did tell Chris Harrison, though, that she's ready to look for love again. Cut to around an hour later, and voila: Becca is the Bachelorette!
Towards the end of the special, Chris Harrison commented that The Bachelorette season was starting right now. He was half serious: Becca met some of the contestants that are going to be on her season. But yeah, The Bachelorette doesn't start now — and honestly, I'm thankful. I think we all need a break after this season. In the final moments, Harrison said the actual premiere date is May 28.
That seems like forever from now, but I know the two months (about) will certainly fly by. In the meantime, Arie and Lauren will jet across the world and then back to Arizona, and Becca will film her own journey to love. Judging by the several contestants that made her way to the After the Final Rose stage, it'll certainly be a season to watch. There's already been an entrance with a banjo player and another one with a horse, so I have high hopes.
I didn't think anything would top Rachel's season of The Bachelorette, but Becca's seems to be worthy competition. Becca has one of the most harrowing journeys on Bachelor history that I remember, so I'm glad her story will continue with a season of her own. Bachelor Nation is certainly Arie-d out by now, but by May 28 viewers will be ready to see Becca fall in love (and for real this time). If others can't get enough Bachelor, I'm sure her social media accounts may have a few clues as to what will happen. Everything's up in the air right now, but I'm practically certain Becca's Bachelorette season won't end the same way Arie's did, thankfully.
Check out Romper's new video series, Romper's Doula Diaries:
Watch full episodes of Romper's Doula Diaries on Facebook Watch.