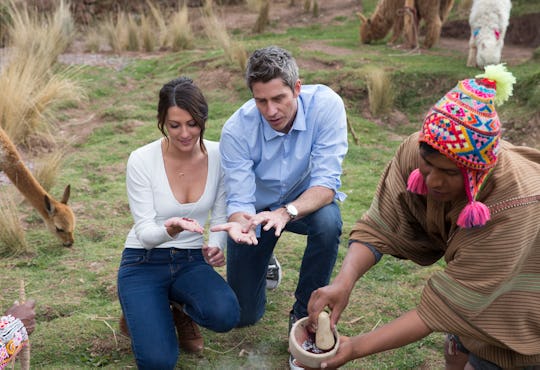 Paul Hebert/ABC
When Does Becca's 'Bachelorette' Season Start Filming? She's Ready To Find Love Again
Well, they've done it. Arie managed to make one of the most boring seasons of The Bachelor I've seen have one of the most dramatic endings in history of the franchise. Becca was dumped in such a harsh way, which left ripe for the picking to become the next Bachelorette, which Chris Harrison confirmed during Tuesday's After the Final Rose special. So when does Becca's Bachelorette season start filming? Seeing as The Bachelorette usually starts towards the end of May, Becca and The Bachelorette producers will have to act fast.
Let's break down Becca's "journey" on The Bachelor first, because Bachelor Nation knows that the show will do a deep dive into her history once her season kicks off. Becca actually received the first one-on-one date with Arie way back when, and it was an interesting one. Becca got her Pretty Woman moment when Rachel Zoe and Neil Lane styled her in their clothes and jewelry. (Yes, that Neil Lane who supplies all the engagement rings for Bachelor contestants.) Arie even (jokingly) got down on one knee during their initial limo meeting. Was it a clue for what was to come?
Even if Arie had no idea at that point that Becca would reach the finale, it happened. Becca made it through group dates, hometowns, and the fantasy suite to reach this point. And at first, Bachelor Nation believed she was the winner... but then it all came crashing down when Arie called off their engagement — with a full camera crew in tow — because he realized he wanted to be with his runner-up, Lauren B. more. Yikes. Suffice to say, the breakup was brutal and excruciatingly long, made all the more awkward by the fact that Arie refused to leave even when she pleaded (in tears) for him to do so.
It was heartbreaking for sure, but it also gave ABC the perfect person to become the next Bachelorette, and it seems Becca is ready to try and find love again — this time on her terms.
Remember last year, when Chris Harrison brought out some of Rachel's contestants on After the Final Rose? Well, he did it again: Becca met a few contenders that'll be on her season. He joked that the season starts now, but when does filming really begin? Last year, Us Weekly reported that Rachel's Bachelorette season began filming on March 16. Her season began on May 22, while Becca's begins on May 28, so the timeline is pretty much the same. It hasn't been announced yet, but Becca will probably start filming her season within the next couple weeks.
Does that seem like a really short amount of time? It is, but it's not new at all. Arie's season began filming September 20, and it premiered New Year's Day. This is The Bachelor, not real life: contestants are expected to have a full-fledged relationship in a condensed amount of time.
I know Becca will handle the filming schedule like a pro, though. Not only did she just go through a Bachelor season, she had a short engagement. Her pain on After the Final Rose was real, so I know she had actual feelings for Arie that will definitely impact her Bachelorette season. Despite the short time frame, I think she'll go into it looking to find love and know who is and isn't there "for the right reasons."
On Tuesday night, Becca already met a handful of suitors, and I'm sure she's eager to meet the rest of them — and judging by seasons past, she won't have to wait too long. Bachelor Nation, however, will have to sit tight until May 28 to see where Becca's journey picks up.
Check out Romper's new video series, Romper's Doula Diaries:
Watch full episodes of Romper's Doula Diaries on Facebook Watch.