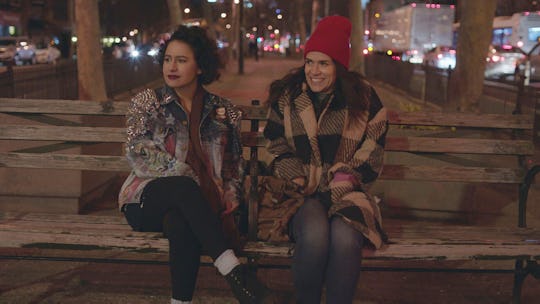 Comedy Central
Don't Expect 'Broad City' Season 5 To Premiere Anytime Soon
Your favorite New Yorkers are going on hiatus. The fourth season of Broad City comes to an end this Wednesday night, which means it's time to say goodbye to Ilana and Abbi, at least for a little while. But never fear, the show was already renewed for a fifth season back in 2016. The only question now is when does Broad City Season 5 premiere?
The fourth season of the show came much later than originally anticipated, so it's not surprising that many fans are worried about the wait in between this season and the next. The third season of the show ended in April 2016 and the fourth season didn't premiere until September of this year. However, there was good reason for the delay. Show creators and show runners, Abbi Jacobson and Ilana Glazer, wanted to have a season that took place in the winter (the first three seasons were set in the summer), however, if you've been watching Season 4, you'd know that didn't work out as planned.
But because of the delay and the 2016 election, Jacobson and Glazer actually ended up rewriting a lot of the episodes, which is how we ended up getting an episode where President Donald Trump's name was bleeped out. Therefore the 17-month wait between episodes was worth it, but that doesn't mean fans want to go through that again.
Unfortunately, one thing that could delay production on the show is the fact that Louis C.K.'s manager, Dave Becky, is a producer on the show. Back in November, Becky came under fire after reports surfaced that he'd attempted to cover up an incident back in 2002, which allegedly involved C.K. masturbating in front of two young, female comedians without their consent. Becky has since apologized for his involvement in the incident and not taking the women's claims seriously at the time.
Recently, Glazer and Jacobson went on Entertainment Weekly Radio to discuss the issue and revealed that it's something they're "figuring out right now" to see what to do next. "It's like this upsetting thing to find out his involvement in the whole thing and it's definitely something that we're constantly talking about right now," Jacobson said. Glazer also added that they "take accountability for using this white dude power to get our show on TV."
Controversy aside, it's difficult to say when the fifth season will come. The first two seasons of Broad City premiered in January and the third season premiered in February, but because the fourth season premiered so late, the finale is obviously much later than the seasons that came before it. Therefore, it seems very unlikely that we'll get a new season at the start of next year. It's much more likely that the fifth season won't premiere until at least summer 2018, but it may not come until the fall again.
No matter when it arrives, though, there's no doubt it'll be just as funny and uplifting as always. In the fourth season, Jacobson and Glazer continued to showcase current issues in funny and lighthearted ways that allowed viewers to forget the trash fire that 2017 has been and just laugh for a half-hour each Wednesday. Ilana went to see a sex therapist because Trump and the election ruined her ability to have an orgasm and the girls took a trip to Florida where they discovered just how easy it is for everyone to get a gun.
The show remains hilarious, but also poignant with each episode, and it's the light we need in what sometimes feels like very dark times. So whenever it comes back, I'll definitely be there waiting, because I can't wait to see what Abbi and Ilana get into next.
Check out Romper's new video series, Romper's Doula Diaries:
Watch full episodes of Romper's Doula Diaries on Facebook Watch.