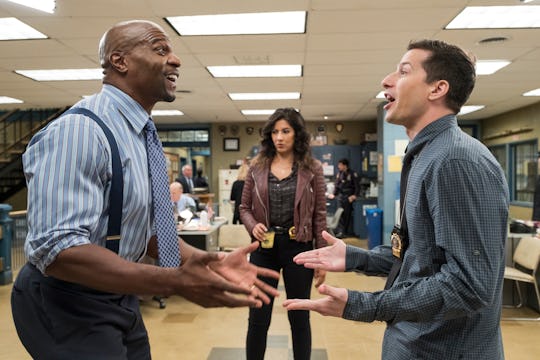 John P Fleenor/Fox
The 'Brooklyn Nine-Nine' Fall Finale Will Leave Fans Wanting More
In less than five full seasons, everyone's favorite workplace cop comedy became a staple for many viewers' Tuesday night primetime schedules, and rightfully so. The cast has been stellar from the beginning, with each character's personality playing well off the others. But like all primetime TV shows, it must come to an end with the dreaded winter hiatus, so when does Brooklyn Nine-Nine return after its Season 5 fall finale? Right now, it doesn't look like there's a clear answer, but if you look at the upcoming Fox winter schedule and Brooklyn Nine-Nine's past, you can get a good idea of what's to come once the winter hiatus is over for the show.
If you look at Seasons 1-3, Brooklyn Nine-Nine went on break in December and returned the following January each time, but Season 4 was a bit different. Instead of returning in January like all of the seasons before it, Brooklyn Nine-Nine returned from its winter hiatus for good in April 2017, which was a much longer break than the show has taken in the past. If Season 5 plans to follow the same format, then fans could be looking at a long winter ahead, without any of the usual ragtag group of detectives.
TVLine recently released a long list of shows returning in the winter and their respective dates, but for Brooklyn Nine-Nine, the return date is listed as 'TBD,' which, again, isn't very reassuring. The small glimmer of hope, though, might come in the form of a new Fox series L.A. to Vegas set to premiere on Jan. 2 at 9 p.m. EST and span nine episodes. While that isn't the same time slot as Brooklyn Nine-Nine, it might still have something to do with the show potentially not returning in January as usual. Instead, fans could see Brooklyn Nine-Nine come back from its winter hiatus in March, once L.A. to Vegas has ended its short first season run.
Again, nothing has been confirmed as far as the actual date Brooklyn Nine-Nine could return after its fall finale, but there seem to be several factors that could impact that date. Regardless of when it's coming back, though, there's a lot to look forward to, especially as some of the characters have come so far and are continuing to progress on the show.
Stephanie Beatriz (Rosa) spoke to Entertainment Weekly at the beginning of December about her character coming out as bisexual on Brooklyn Nine-Nine and where things could go for her, romantically, moving forward. Obviously fans are wondering about the mysterious woman on the phone. If Beatriz has anything to say about it, we could meet her later in the season.
"There are lots of amazing actresses that I would love to play these scenes with," she said. "I can't even imagine the good stuff that could get written for that relationship. I just think it would be so fun. All of my fingers are crossed that we're going to see if not [her] then maybe another girl that Rosa is dating."
Ahead of Brooklyn Nine-Nine's monumental 99th episode which aired on Dec. 5, showrunner and co-creator Dan Goor spoke to TVGuide about the future of the show and whether or not any lower rating will influence a return next season. "Fox has been very supportive and encouraging of us and continues to be so, and their official statement to us is they don't look at that kind of ratings data and I hope to god that is true," Goor said. "But also, our show does very well in the Live+7 setting, and we're one of the most-watched live-action shows on Hulu. I think that is of interest to Fox."
He also remarked that although there are some big topics that have come up during Season 5, like Amy and Jake's wedding and Holt possibly pursuing the job of commissioner, fans shouldn't look at those storylines as a way of closing out the series with this particular season. "A more positive way to view these developments and arcs are as fun ways to set up an interesting, different sixth season as opposed to the tombstone on Season 5," Goor pointed out.
There's no solid answer yet about when Brooklyn Nine-Nine will return, but I think we can all agree that there's going to be a lot to come back to once the winter hiatus is over, however long it may be this time around.
Check out Romper's new video series, Romper's Doula Diaries:
Watch full episodes of Romper's Doula Diaries on Facebook Watch.