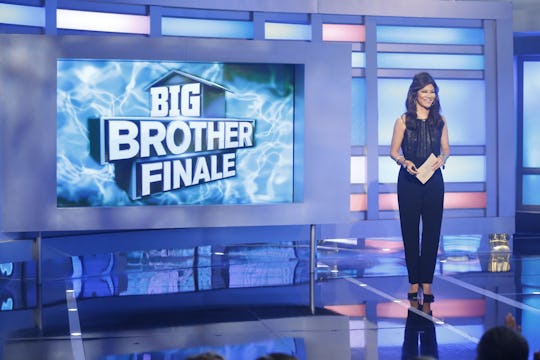 Sonja Flemming/CBS
'Celebrity Big Brother' Season 2 Premieres This Winter
The ink is barely dry on Kaycee Clark's Big Brother 20 check for $500,000, but fans are already wondering when Celebrity Big Brother Season 2 premieres. Last winter, viewers watched a group of celebrities battle it out for a check of their own, all while enduring the isolation of the Big Brother house.
For some, it wasn't easy, but for others, it was a season that kept on giving. Marissa Winokur and Ross Mathews, who placed first and second respectively, were given the opportunity to remain part of the franchise with their own web show, Off the Block, so clearly the first season was a success. And, executive producer Allison Grodner told Big Brother Network, plans are already underway for Season 2. "We have already started [casting] and we are so excited to dive into the next Celeb BB this winter," she revealed.
Last season premiered during the 2018 Winter Olympics, but since there are no Olympic games to contend with this time around, Celebrity Big Brother Season 2 could premiere any time in the next several months. There hasn't been an official announcement about when Season 2 premieres on CBS, but I have a good idea about when it won't be on. Right now, some weekdays on CBS are full of the network's usual comedies and dramas that make up the fall season. But since this is a network station, the series typically run from the fall to spring, meaning there's little chance that Celebrity Big Brother could slide into one of their time slots later in the season. Wednesdays would work after Survivor Season 37 ends and it could also air on Sundays this winter.
There's no guarantee as to which days Celebrity Big Brother will be on, but last season it ran for 3-4 days per week during February. If they're already casting, then the premiere could be here a lot sooner. It's just a matter of finding the time day and time for each new episode.
Although the official Celebrity Big Brother Season 2 cast hasn't yet been revealed, Julie Chen and former houseguest Mark McGrath had ideas of their own after last season on who should be thrown into the house next. Backstage at The Talk in March, Chen suggested Tonya Harding and Tommy Lee as potential future celebrity houseguests. I definitely wouldn't count out the possibility of Harding, as she previously competed on Dancing With the Stars Athletes. McGrath suggested Gary Busey, Michelle Kwan, and Flavor Flav. I would give my first born child to watch a season of Celebrity Big Brother starring Flavor Flav, so I'm just going to put that out there.
The important thing is that it's already been confirmed that Celebrity Big Brother will return and that it will be back in the winter like last season. Chen said as much as the end of the Big Brother 20 finale and although she didn't give an exact date, Season 2 will likely premiere in or before February.
Big Brother usually runs around the same time every summer. This might be only the second season of the celebrity version, but there's a good chance that CBS will premiere it around the same time it premiered last season, if not sooner. If the plan is still to make the season span just a month instead of Big Brother's usual three, then any month after the holiday season should work. And as a sometimes/kind of/sort of Big Brother super fan, I vote on sooner than February.