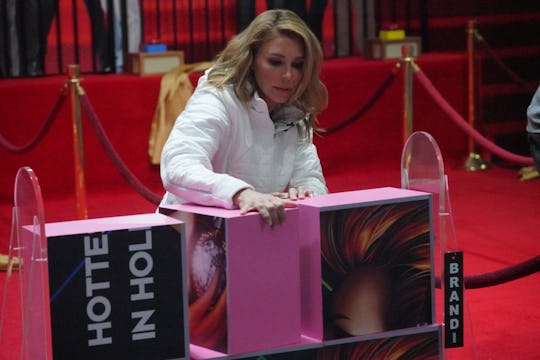 Bill Inoshita/CBS
More Seasons Of 'Celebrity Big Brother' Could Be On The Way
Unfortunately, Celebrity Big Brother comes to an end on Sunday, Feb. 25. The shortened season saw 11 celebs enter the Big Brother house and compete to win $250,000. There was drama, White House revelations, and some hilarious moments as well. But all good things must come to an end, however, maybe not for forever. Many fans are wondering will there be a Celebrity Big Brother Season 2? I know I'm not the only one who would be down for more drama.
While there's been no official word yet about whether or not the reality series will return next winter, the show has done incredibly well in the ratings up against the Winter Olympics, so there's definitely a good chance. Host Julie Chen also said as much in a recent interview with Entertainment Weekly. She told the outlet that she "wouldn't rule out" a second season and that "it's definitely possible." Sounds pretty promising, right?
She went on to add: "With these ratings, [the show] did what we hoped as opposed to running repeats of the current slate of shows. It all depends how well all the shows on the air are doing." Therefore there's definitely a good chance this is only the beginning for Celebrity Big Brother in the U.S., not the end. So keep your fingers crossed for more CBB in the future, and start making your wish list for which celebs you'd like to see in the Big Brother house the next time around.
This first season had an incredible cast, which included Omarosa, who many see as one of the original reality TV villains. Her title as a villain pretty much remained on Celebrity Big Brother, as she was able to manipulate the other houseguests into working in her favor.
This season also included super fans of the show, like Shannon Elizabeth, but even her incredible knowledge of the show didn't stop her alliance from turning on her and evicting her out of the house pretty early on. Fans also fell in love with James Maslow, who was arguably the hottest houseguest, and many GIFs were made of his fellow houseguests, Ross and Marissa, practically falling over themselves to see James' abs.
One issue many viewers did take with this first season, however, was the houseguests' willingness to leave. From the very beginning, former NBA player Metta World Peace made it clear he wanted to go home, and eventually he got his wish when the house unanimously voted him out, even though he only had six days left in the game. Similarly, prior to Metta's departure, Keshia was also voluntarily evicted because she felt she needed to go home and be with her baby daughter after her breast milk started depleting.
Because the Celebrity Big Brother season is shorter than a regular season, some fans may argue that Metta and Keshia shouldn't have signed up for the show if they weren't committed to sticking it out for the whole time. For celebs the whole game took less than a month, whereas the regular Big Brother season takes up the whole summer. So if there is another season of the series, hopefully the celebs chosen will actually be committed to playing the game. However, it's probably hard to make that kind of assurance. If the other houseguests are willing to evict someone when they ask, then there's not much the showrunners can do about it. Plus, it's not as though Keshia wanted to leave. She did it for her baby, which is completely understandable.
Regardless, due to the popularity of the show, it'd be surprising if CBS didn't bring the show back for another season next winter. The season finale of Celebrity Big Brother airs Sunday, Feb. 25 at 8 p.m. EST on CBS.
Check out Romper's new video series, Romper's Doula Diaries:
Watch full episodes of Romper's Doula Diaries on Facebook Watch.