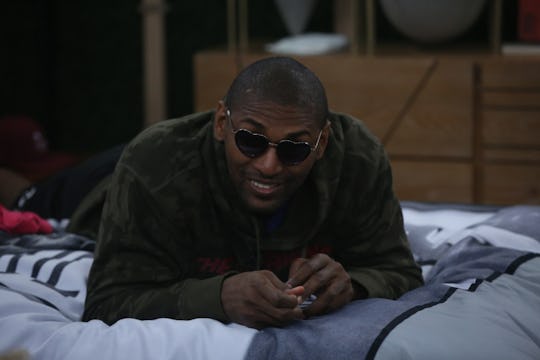 Monty Brinton/CBS
This Is Why Metta World Peace Wants To Leave 'Celebrity Big Brother'
The point of Big Brother is to stay in the house for as long as you can, but for one Celebrity Big Brother houseguest, he's more than willing to be evicted. So why does Metta want to go home on Celebrity Big Brother? It's not because he has a fear of missing out on things happening back home, he just misses the people he loves.
Pretty early on in the game Metta was ready to leave. When Shannon was Head-of-Household, he asked her to nominate him, but she had bigger targets on her mind. Also, according to live feed viewers, Metta had try to leave the house twice. He even went so far as to hit the "emergency button," but was convinced by the producers to stick it out.
Although Metta has seemed to mellow out since then, finding comfort in a stuffed owl, he's made it clear that he'd be more than willing to be evicted, and one has to wonder why. Well, a few times he's stated that he misses his longtime partner, Maya Ford. The couple were first spotted together in July 2013, though it's hard to say when exactly they began dating. Regardless, they've been together for years and it's clear they're quite close, as couples tend to be, and it's understandable that Metta hates being away from her.
Editor's Note: The Instagram post has since been deleted.
Along with his missing his significant other, Metta also misses his four kids: Ron Artest III, Diamond Artest, Sade Artest, and Jeron Artest. It probably also doesn't help that Sade is expecting a baby at the moment, and it appears this would be Metta's first grandchild. Thus, it's not at all surprising that he's aching to get home, especially if the baby is supposed to be due soon.
Still, Celebrity Big Brother is a shortened version of the real game and Metta won't actually be in the house for that much longer, which makes one wonder why he's so desperate to leave the house. He isn't the only one with family on the outside. Brandi, Mark, and Marissa have children and Omarosa is also married, yet they all knew what they signed on for. It just seems like since Metta agreed to be on the show he should at least try to participate in it.
That being said, it's also surprising that no one has actually nominated Metta and sent him home. He's basically volunteering as tribute at this point, but no one's biting. This is especially strange because the houseguests were willing to evict Keshia so she could go home and be back with her newborn baby. Maybe the other houseguests just don't see Metta's issues as pressing. It's also possible they just don't see him as a threat. Why take out someone who could later be a vote for you to evict someone else, right?
Except that by letting Metta stay in the house and most likely make it all the way to the final two, whoever's sitting beside him has set themselves up for disaster. Because Metta hasn't been actively playing the game, he hasn't made any enemies in the house. Thus, when the jury votes on the final two and chooses the winner, they'll most likely choose Metta because he's literally done nothing to anyone. He's just there.
If the houseguests were smart, they'd just let him go home sooner rather than later, but unfortunately it doesn't seem like any of them are willing to make that move. So it looks like Metta could very well win this game, just by being there.