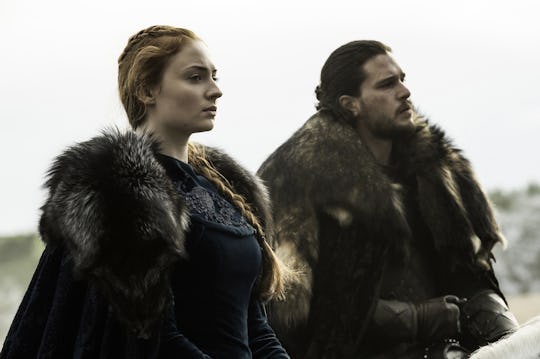 Helen Sloan/HBO
When Does 'Game Of Thrones' Season 7 Premiere? It's Not Too Early To Start Getting Excited
The Season 6 Finale of Game of Thrones is fast approaching, airing on June 26 with a 70 minute episode that still probably won't be enough for us. But as much as fans want to enjoy this last episode of Season 6, it's hard to not think about the future seasons of Game of Thrones. So, when does Game of Thrones Season 7 premiere? In the past, the season premiere dates have fallen in the month of April, so it's best to assume that Season 7 of Game of Thrones will premiere in April 2017. So it's less than a year away, but nowhere near close enough yet.
Plenty of cast members have been signed again for more episodes, but that doesn't necessarily give anyone an idea of what Season 7 will entail for those of the Seven Kingdoms. What we know so far is that we have yet to see more of the important historical moments through Bran's visions, since we haven't seen the kid since the first half of Season 6, and we're going to need to see how the war with the White Walkers plays out, since we all know that is bound to be the next big battle.
It has been rumored for awhile that not only will Season 7 and 8 be the final two of Game of Thrones, but they'll also feature less episodes each, totaling just 13 for the remainder of the series. The plan of two seasons has been touched on, but there has been no sure confirmation on the idea that these final seasons of Game of Thrones will be shorter. As it is, I think we can all agree that 10 measly episodes per season is far from enough, especially when we have to wait close to a year between new seasons.
The Season 7 premiere of Game of Thrones will likely air in April 2017 and while we still have the Season 6 finale to get through on June 26, the rumors and casting surrounding Season 7 have already started flying. Without going into detail in their casting calls, because they can do that, there has been a call for a few different children. Namely, a 16-year-old girl to be used in a pivotal scene. Could this be the Tower of Joy, taking place in Season 7 of Game of Thrones? On the one hand, that is kind of amazing, but on the other, it just means we'll have to wait even longer for Bran's visions to give us something juicy.
Regardless, we have every right to get excited about the Season 7 premiere of Game of Thrones because it's Thrones, ya'll. And because you can never not be excited for the next episode or season.