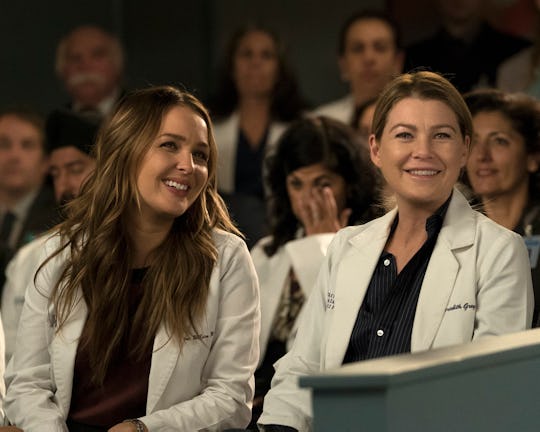 Byron Cohen/ABC
The 'Grey's Anatomy' Season 15 Premiere Can't Come Soon Enough
It's that time of year again. The sun is shining, birds are singing, and some of the best primetime TV is coming to an end, forcing you off the couch and outdoors. But after a long season of Grey's Anatomy full of the usual heartache, laughs, and character growth, it's definitely time to look toward next season and wonder what it may bring to the doctors of Grey Sloan Memorial Hospital. So when does Grey's Anatomy Season 15 premiere? Obviously, it can't come soon enough, especially now that two of the arguably best characters are out the door and things are changing at the hospital. But like most of the seasons before it, Season 15 will likely premiere in late September.
I know, any break in the drama and intrigue of these over-the-top medical stories is dreaded, but since it's a network show, at least we won't be waiting an entire year for its return. Instead, viewers can expect that Grey's Anatomy will be back in September 2018 on the same time and same channel with many of the same doctors, excluding a few significant few. It was announced earlier in the season that Sarah Drew and Jessica Capshaw won't be back after Season 14, so I'd say that Season 15 is in for some big changes, at least where their potential replacements are concerned.
In addition to the exits of both beloved actors, other characters on Grey's Anatomy saw some big life changes this season. Alex and Jo are solid for once, and Meredith might be ready for her next permanent McDreamy (although let's hope he doesn't have a missing fiancée anywhere). There were some big changes among the doctors at Grey Sloan Memorial, and I would imagine that going into Season 15 on Grey's Anatomy, we can expect to see some of the events of this season spill into storylines for next season.
As one of ABC's most successful series by far and the longest-running primetime drama on the network ever, it's hard to see an end in sight anytime soon for the show. It's already been renewed for Season 15 and Ellen Pompeo renewed her contract for two more years on top of that, so it looks like the actors themselves are all for sticking with the show as long as the network will have them. As one its most successful shows on primetime right now, I don't see ABC giving up Grey's Anatomy either.
"Grey's Anatomy has a special place in my heart and millions of viewers feel the same way," Channing Dungey, ABC Entertainment president, said in a statement obtained by Deadline. "Thanks to fiercely loyal fans who have been on this journey since the beginning, and new generations of viewers who continue to discover the joy and drama of Grey Sloan Memorial, the show is as strong as ever."
As for what stories viewers can expect in Season 15, that remains to be seen, but there could be more crossover episodes with Station 19 come the fall. Over this past season, the two shows commingled in the standard TGIT time slots and more than once, characters crossed over between shows. Now, Dungey has hinted at the ABC Upfront Presentation that there could be more Grey's Anatomy and Station 19 crossovers next season. "We are looking at more dynamic interplay between the 8 and 9 o'clock hours," he said cryptically, which does sound like more crossovers could be in the future, come Season 15.
Either way, because of the show's continued success with the network, Season 15 will more than likely premiere in September 2018 and deliver a whole new batch of drama. I can't wait.