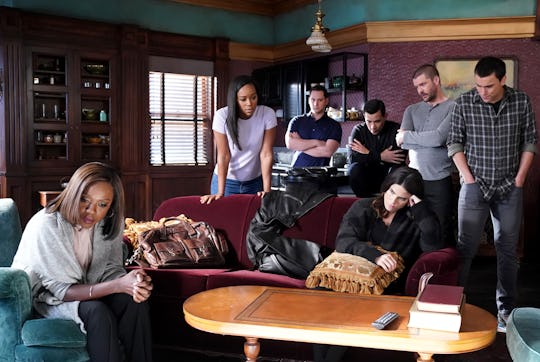 Mitch Haaseth/ABC
Here's When You Can Probably Expect 'How To Get Away With Murder' Season 5 To Premiere
The ink is barely dry on Annalise's signature in the guestbook at the Supreme Court, but now that Season 4 is wrapping up, fans are already itching to know, when does How to Get Away with Murder Season 5 premiere? There's no doubt that the Season 4 finale is going to leave viewers with a handful of brand new questions, even if the season as a whole did well in fleshing out most of the remaining mysteries from Season 3. But considering this is a show known for its shocking finales that bring with it one or two jaw-dropping cliffhangers, there's no doubt in my mind that the writers have something big cooked up for Season 5.
There's just one problem, though: technically, there hasn't been an official renewal announced for the ABC series. There also hasn't been a cancelation notice either, and if a big Thursday night show like HTGAWM was going into its final season, fans would have surely heard as much by now, much like Scandal's final season, which was announced well ahead of its premiere date. It's no big secret that Shondaland dominates Thursday nights on ABC, so I don't think the network would just up and cancel a show like HTGAWM with zero notice, right? Even Grey's Anatomy hasn't been officially renewed, even though Ellen Pompeo just signed a contract to remain as a cast member for the next two seasons, so that just goes to show that the network wouldn't get rid of one of their "T.G.I.T." programs without warning. At least I don't think they would.
As long as HTGAWM is renewed for Season 5, fans can expect to see a premiere date near the end of September 2018, as all four of the show's past seasons have premiered around the same time with generally the same number of episodes to take it into the following spring. As far as ratings and viewership goes, there isn't much to be concerned about. TVLine reported that during the crossover with Scandal earlier this season, HTGAWM received the highest number of viewers over any other episode of the season with 4.14 million. So I doubt low ratings would be the cause of the show not getting picked up again.
While I'm sure that we'll be getting plenty of answers in the HTGAWM Season 4 finale, there's still a lot of ground for the series to cover plot-wise. First there's the matter of Annalise's Supreme Court case. Then, of course, there's Oliver and Connor's wedding, and the fate of Asher and Michaela's relationship. There's also Laurel and her baby, which have been one of the driving plots of the season. Can all of these things really be wrapped up in just the one remaining episode?
In January 2018, ahead of the show's return from its mid-season finale, creator and showrunner Pete Nowalk spoke to TV Insider about the future of HTGAWM and what, if anything, he has planned for Season 5. "You know as much about Season 5 as I do at this point," he said at the time. "Obviously, my hope is that we get to make a season five. Fingers crossed. ABC has been very good to us. Viola still wants to do it. I still want to do it. Once we get the final pickup, then I'll actually start thinking about it in a real way. Obviously, I have ideas but I don't like to jinx anything until we get our pickup."
Since it's almost a guarantee that HTGAWM will get picked up for another seasons, fans should expect the usual premiere date in September. Of course, this means we won't get answers for the duration of the spring and summer seasons, but as with every season that came before it, I'm sure it will be worth the wait.
Check out Romper's new video series, Romper's Doula Diaries:
Watch full episodes of Romper's Doula Diaries on Facebook Watch.