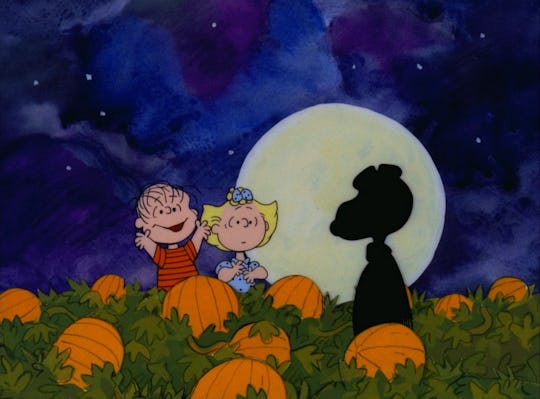 ABC/United Feature Syndicate Inc.
When Does 'It's The Great Pumpkin, Charlie Brown' Air? It Will Be On In Time For Halloween
For most of us, even if you don't have kids, watching the Charlie Brown specials each holiday season is a longstanding tradition. There's just something about the block head and his weird band of friends that make you feel nostalgic and pumped for whatever holiday they're celebrating. And now that Halloween is almost upon us, you're likely wondering: when does It's The Great Pumpkin, Charlie Brown air?
The Halloween-themed Charlie Brown special with the entire Peanuts gang airs on ABC on Friday, Oct. 28, at 8 p.m. ET, and while it is a Friday night, you should probably take the time to actually watch it live instead of DVR-ing it for later. Otherwise it'll just get lost amid those 13 episodes of Mr. Robot, which are still waiting to be watched. It's The Great Pumpkin, Charlie Brown is a holiday special and as such, should be enjoyed around Halloween to get the full nostalgia effect.
Before you know it, we'll have A Charlie Brown Thanksgiving and then A Charlie Brown Christmas to contend with, so enjoy the Halloween Charlie Brown special Friday night, while it's still relevant and while it's still Fall. It might just be up there with Hocus Pocus and Casper as classic Halloween movies that never quite get old.
Of course, you can watch all of the Charlie Brown movies year-round and it wouldn't be too hard to find full versions of them on YouTube, but that's not the point. Among all of the HD computer animated films of today, there's something so simple and sweet about watching an old (50 years old to be exact) Charlie Brown Halloween special that doesn't even last the length of a movie and probably isn't as funny as Inside Out, but still somehow holds the attention of most kids and adults alike.
TV Guide describes the synopsis of the special as: "Charlie Brown is finally invited to a Halloween party; Snoopy engages the Red Baron in a dogfight; and Linus waits patiently in the pumpkin patch for the Great Pumpkin. Also: the bonus cartoon, 'You're Not Elected, Charlie Brown.'" So not only are we going to get the usual Halloween season It's The Great Pumpkin, Charlie Brown, but also a short cartoon that is likely perfect for the times (i.e. the upcoming election).
Even if you aren't a parent or you never really got into the Peanuts franchise in general, watching It's The Great Pumpkin, Charlie Brown is almost a civic responsibility at this point. So go forth and let the Halloween festivities commence!