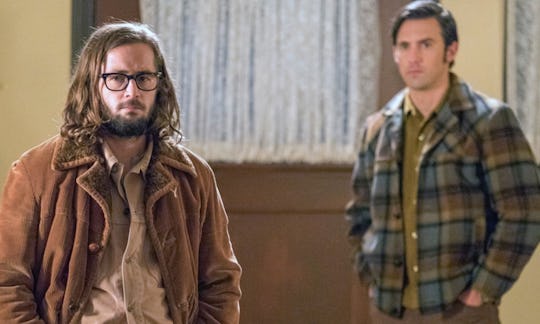 Ron Batzdorff/NBC
If You're Waiting For Nicky's Death On 'This Is Us' Here's What You Should Know
If you sat on the couch clutching a wad of tissues during last week's This Is Us, you are my people. Of course, Jack's time in Vietnam has been teased for a while now, but nothing prepared me for seeing him go through it — specifically in terms of how little brother, Nicky, fits in the story. The mystery of Nicky still lingers, and showrunners promise to leak answers throughout the season, but before I invest in the spiral of fan theories I need to know: when does Jack's brother die on This Is Us? In case you've yet to see the powerful Vietnam episode, spoilers ahead, so tread with caution.
Unlike the two-season teaser with Jack's death, answers about Nicky will be revealed this season, according to show creator Dan Fogelman — though not right away. "We have a direct pick-up coming a couple of episodes later," he said. "We rotate our past storylines quite a bit, so it takes a couple of episodes...but the continuation of that storyline linearly takes the rest of the season."
Michale Angarano, who plays Nicky Pearson, told E! News there's still plenty to learn about what happened in Vietnam and within Jack and Nicky's relationship. "You'll understand later," he said. "You'll understand it, but I think to say it's satisfying would be wrong. I think it might be 'surprised and a little bit saddened.' It's a complicated dynamic between the two of them." Complicated is an understatement for the Pearson men. Between their alcoholic, abusive father, and Jack's inherent need to protect Nicky at all costs, it's easy to see why Jack evolves into the private, secret-keeping husband and father.
In the same interview, Anagarano added why viewers should be patient for the mysterious details about little Nicky to unfold, "I think it's more important to understand what's happened to him and that his past has influenced his decision to go to Vietnam in the first place and to not cross into Canada. When he sees Jack in that last moment, I think their entire sibling dynamic flashed before his eyes. So I think for me it was much more important to understand where he's come from than to have knowledge of where he's going."
The Vietnam episode may have given fans a glimpse into the elusive life of Jack Pearson before he was Papa to The Big Three, but it also set up what to expect going forward. Or, as much as writers want you to expect. You see in this episode that Nicky regards Jack as his superhero (he's not wrong, TBH), so when Nicky's birthdate is drawn for the Vietnam draft — even when the plan is for Nicky to run to Canada instead — he leaves a note telling Jack it's [Nicky's] turn to be a superhero. *Sobs*
And don't forget Nicky also wrote a letter foreshadowing his death. It's possible he felt he couldn't live up to all his big brother was (in superhero form) and puts himself in danger in hopes of becoming the same. Fogelman also spoke with Entertainment Tonight after Tuesday's screening about Nicky's first real cameo (aside from last season's episode, "Brothers"), "It's a big story. It's surprising. It's fair to say that clearly, something broke in Vietnam for Jack as it relates to his brother, and I think people will be satisfied with what we're doing there even if they don't always like it." He also said in the same interview the Vietnam reunion that ended last Tuesday's show will continue in "a few weeks," adding it will "be a direct pickup from where this episode ended to move forward through Vietnam linearly."
He also said the trauma of Nicky's death may trigger those unresolved feelings over Jack's death, so prepare yourself now. "It's comparable to some of our biggest stuff in that it's going to feel really massive, in terms of what it does to Jack," he explained. "Jack buried a portion of his life when he came back from the war. What we're going to explore this season is what he buried."
While there are theories of what's to come with Nicky's fate — that the Article 15 has something to do with his death, that he doesn't die at all, that he dies saving Jack — writers and showrunners are masters of illusion so take each hint with a grain of salt. You may not see how Nicky dies, and what it does to Jack, in the next episode, or even the one after that. There's a lot of story to tell and, I, for one, am never, ever ready for it.