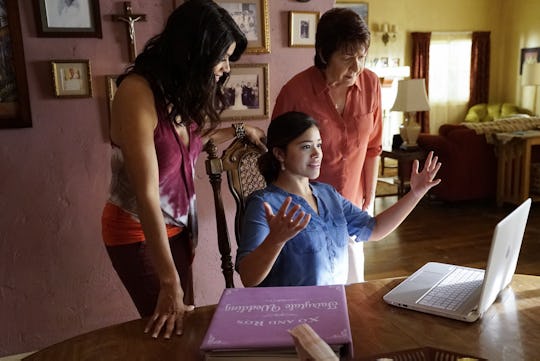 Greg Gayne/The CW
'Jane The Virgin' Is In For A Big Change For Season 4
It's been quite the emotional season for Jane the Virgin fans. Losing Michael was a heartbreaking turning point in the series that left Jane at a crossroads as she tried to figure out where to go from here. The time jump has definitely made that transition easier, and even though Michael's presence is still felt throughout the show, the writers have done a great job of making these characters stand on their own without him. In fact, the series is doing so well that it's already been picked up for another season. So when does Jane the Virgin return for Season 4? Thankfully, it won't be too long of a wait.
No official premiere date for the fourth season has been announced yet. (It's a little too early for that.) However, The CW has just announced its fall schedule lineup, allowing fans know at the very least what day their favorite shows will air on when they return for their respective upcoming seasons. And Jane the Virgin is about to undergo a pretty significant change this time around. Instead of airing on Monday nights, the series will now be moving to Friday nights starting at 9 p.m. immediately following Crazy Ex-Girlfriend.
So regardless of when precisely Jane the Virgin comes back, it's definitely going to involve quite the change up — though, unlike iZombie, The 100, and The Originals, Jane the Virgin is definitely listed as returning in the fall rather than midseason, so the wait shouldn't be too bad for diehard fans. Still, I can't deny that the drastic shift is somewhat worrying when it comes to the show's future prospects. At times, moving to a Friday night — a time when arguably less people will be tuning into their TV screens — could represent the kiss of death. However, there have proven to be exceptions to that rule.
The Originals shifted to Friday nights and still managed to pick up another season renewal. Same goes for Crazy Ex-Girlfriend and countless others that kickoff the weekend and live to tell the tale. But it is puzzling to see such a drastic change, especially when it seemed to do so well for so long on Monday nights. But alas, that slot has now been given to a new military drama titled Valor. So let's just hope that fans are willing to follow Jane, Rafael, Petra, and Co. over to Friday nights and keep this truly amazing show going for many more seasons to come.