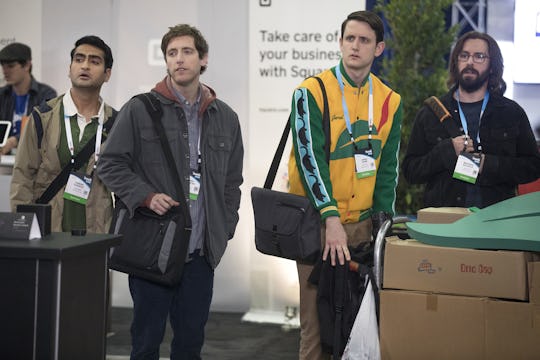 John P. Johnson/HBO
'Silicon Valley' Season 5 Will Be Missing A Main Character
Silicon Valley is about to close out it's fourth season and some fans are already wondering when does Silicon Valley Season 5 premiere? Thankfully, the show has already been renewed for a fifth season, so the critically-acclaimed comedy will definitely be coming back for more hijinks. Fans can probably expect to make their way back to the valley sometime in April 2018. As is the case with most HBO shows, there's usually about a year between seasons (if not more), and Silicon Valley has always premiered in April, so it makes sense that Season 5 wouldn't be any different.
However, the actual premiere date hasn't been announced just yet, so you never know for sure. One thing that is certain, though, is that one cast member won't be returning for the fifth installment. Variety confirmed in May that T.J. Miller, who plays Erlich Bachman, won't be in Season 5. It appears Miller, who appeared in Deadpool and will be in the sequel, is transitioning to the big screen. He also provided his voice for the Emoji Movie and the How to Train Your Dragon franchise.
Miller has been on Silicon Valley since the very beginning and it'll be sad to see him go. During an interview with The Wrap, Miller revealed that his exit comes as a kind of cliffhanger in the Season 4 finale, which is why he felt it was the best time to leave. "The finale ends as a cliffhanger of whether anyone would ever see Erlich again," he explained. "When I read it, I started laughing to myself, thinking, 'My God, this is the perfect way to say: No, no one ever saw Erlich again — that was it.' And it was just so funny and so real and so true."
So it seems fans won't get the closure they may be seeking with Erlich's exit but at least that leaves the door open for Miller to return to the show, if he chooses to do so. However, right now it seems like Miller is done with the show for good. "The show is the same thing over and over," he said in the same interview with The Wrap. "I guess it's a formula that works, but... it's a very cyclical show." But despite his exit, Miller ensures fans he's still on good terms with the Silicon Valley team. So that's good to hear.
You can see Miller's final appearance on Silicon Valley when the finale airs on Sunday, June 25 at 10 p.m. ET on HBO.