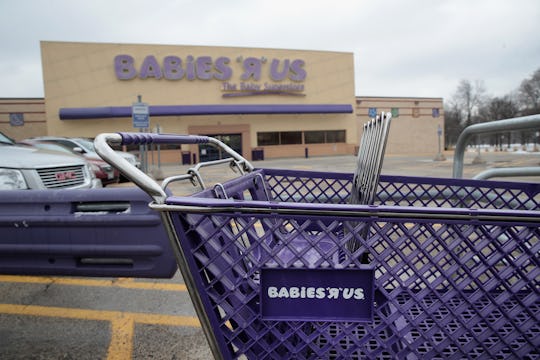 Scott Olson/Getty Images News/Getty Images
The Babies "R" Us Trade-In Event Is Ending Soon — Here's What You Need To Know
When your little one first arrives, it's impossible to imagine giving away their precious little clothing or the changing table you took forever to choose. But then they become toddlers and you all of a sudden realize that not only do you need to trade up in clothing sizes, but you have a bunch of sh*t on your hands that you no longer use. That's why consignment and donation stores, or the Babies "R" Us Trade-In Event, are kind of awesome. But with all the news of store closures, when does the Babies "R" Us Trade-In Event end? The good news is I've got the answers.
The fast answer? The event comes to a close this Sunday, March 18. The long answer is that you may want to check out what you can earn by trading in your baby gear, furniture, and even gently used clothing by making a trip to a Babies "R" Us location.
According to the store's website, you can earn 25 percent off of the purchase of baby gear or furniture when you bring in a trade-in that falls within that category. If you have an "R" Us credit card, then you'll earn 30 percent off of your purchase if you use it at check out. New this year to the Trade-In Event is the ability to donate gently used clothing, which will be given to families in need. Bring in your items and you'll earn 25 percent off of your eligible clothing purchase.
Another bonus? Even if you don't have anything to trade in, you can get 15 percent off of any one baby gear or furniture item by using the promo code NOTRADE15 for an online purchase or using the in-store coupon offered on the Babies "R" Us website.
While the Babies "R" Us Trade-In Event is an annual happening, the extra bonuses could be coming as a result of Toys "R" Us filing for bankruptcy last year and consequently announcing they will close or sell all 800 of its U.S. stores throughout the coming months. Babies "R" Us stores are included in that mix.
If you're worried about gift cards you still have leftover from your baby shower or the arrival of your bundle of joy, then Toys "R" Us says it will honor existing gift cards, as well as its Rewards dollars and Endless Earnings, for another 30 days, according to The Washington Post.
"Gift cards are always a hot-button issue," Josh Friedman, a legal analyst at Debtwire, told The Washington Post. "Generally speaking, I would just try to use them as quickly as possible. Gift cards aren't going to last forever — and neither is Toys "R" Us."
Legal stuff aside, you might be wondering about what exactly Babies "R" Us will deem an appropriate trade-in, right? According to the site, customers can trade in bassinets, bouncers, car seats, car seat bases, clothing, clothing accessories, cribs, crib/toddler mattresses, entertainers, high chairs, infant chairs, infant swings, jumpers, strollers, walkers, and many more items. Check out the Trade-In Event's specified list to see if your item qualifies.
The bonus to trading in many of these items is that it also helps to keep safety in check, which is perhaps the hallmark of an event that was thrown in partnership with Safe Kids Worldwide last year. Every month toys, car seats, cribs, and several other baby-specific products are recalled, meaning that some of the no-longer-used items you have lying around your house might now be considered a hazard. From that walker you loved to use with your first child that now seems a little scary to the Graco Table2Table 6-in-1 Highchair that was recalled this month, you might be not only scoring a discount by trading in, but making your home a safer place.
Sounds like a parenting win-win to me.
Check out Romper's new video series, Bearing The Motherload, where disagreeing parents from different sides of an issue sit down with a mediator and talk about how to support (and not judge) each other's parenting perspectives. New episodes air Mondays on Facebook.