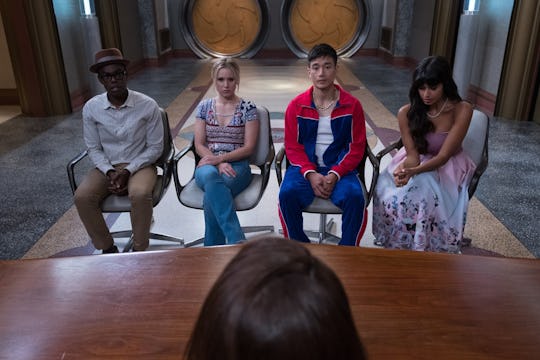 Colleen Hayes/NBC
Here's When You Can Expect 'The Good Place' Season 3 To Premiere
Besides the obvious, what sets apart The Good Place from most other TV comedies is the fact that it has a unique plot that tends to be full of exciting and unexpected twists and turns. It's what keeps viewers coming back and with the end of Season 2 already here, you're probably wondering, when does The Good Place Season 3 premiere? Fans are more eager than ever to watch Eleanor and the gang continue their adventures in the afterlife, while trying to figure out where the fork they belong.
The important thing is that The Good Place has been renewed for a third season and that come next season, we can expect all of our favorite good, bad, and medium characters to be back in full force. But while there hasn't been an official premiere date announced just yet, it will more than likely fall near the end of September 2018. In the past, both Season 1 and 2 have premiered in mid-to-late September, so chances are, fans can expect to watch The Good Place Season 3 in that general time frame as well. While that's still a good eight or so months away, it'll be back before you know it. Plus it's comforting to know that it's definitely returning no matter what. We just have to be patient.
Season 3 will once again have 13 half-hour episodes that follow each other closely enough to always leave you wanting more. Creator Mike Schur, who's also been behind other epic TV comedies like The Office, Parks and Recreation, and Brooklyn Nine-Nine, has managed to create an afterlife that combines multiple religious beliefs without outright naming a god or gods and has already given fans two seasons of adventures and jokes.
Each season we've learned a little more about the afterlife created especially for The Good Place, and have learned about the various demons, levels of executives, and how there are more gray areas than not. Jameela Jamil (who plays Tahani) spoke to Vulture about where she thinks her character should ultimately end up on The Good Place and expanded a bit on what each of these levels should actually be perceived as.
"I think the concept of Hell and Heaven is so extreme. You can only get into the Good Place with no sins? No thanks! That doesn't make sense!," she said, while adding:
The point system is too extreme. I don't know anyone who would get into the Good Place. We're all just human. I don't think Tahani was that bad. I don't think she should be in the Bad Place with Adolf Hitler or actual evil people. She probably deserves a Middle Place where all of the Tahanis of the world should go! Or maybe a Passive Aggressive Narcissistic Place.
Honestly, I'd love to see the Passive Aggressive Narcissistic Place. But The Good Place does have a way of calling out all of the basic and trendy things about our society and poking fun at them in a way that makes it feel like we all should have been doing it a long time ago. Like the selfie stick, or pointing out how frozen yogurt is one of those things you convince yourself is better than the real thing. Side note: it will never compare to ice cream.
Getting a Season 3 is a treat in itself, but since The Good Place will more than likely return in September 2018, it's still less than a year away. And there's no ifs, ands, or bullshirts about it.
Check out Romper's new video series, Romper's Doula Diaries:
Watch full episodes of Romper's Doula Diaries on Facebook Watch.