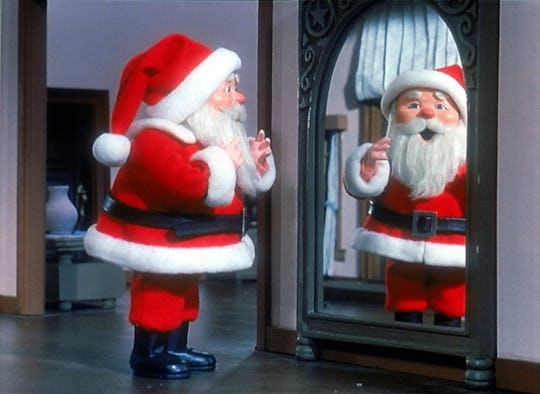 Rankin/Bass Productions
When Does 'The Year Without A Santa Claus' Air? You Can't Miss This Christmas Classic
Somewhere among the showings of Rudolph and Frosty the Snowman, the similar Christmas classic, The Year Without a Santa Claus sometimes gets lost. But the truth is, the movie is just as important to the holiday traditions you share with your own kids, as the other more mainstream ones. Anyone can sing about a melting man made of snow, but living without a Santa is kind of a big deal. So, when does The Year Without a Santa Claus air?
The stop-motion Christmas movie (weren't they all that way until like 1980?) will have multiple showings for the month of December, making it next to impossible to avoid watching it at some point. Dec. 1 kicks off Freeform's 25 Days of Christmas movie marathon special with The Year Without a Santa Claus airing at 6 p.m. (ET). The following day (Dec. 2) will air another showing on the same channel at 2:30 p.m. (ET) and then again on Dec. 4 at 5:35 p.m. (ET) Other viewings include Monday, Dec. 5 at 4 p.m. (ET) as well as Sunday, Dec. 11 at 12:55 a.m. (ET). Basically, Freeform will have no shortage of airings of The Year Without a Santa Claus for December, with more showings also debuting on Dec. 20-21, and 23-25.
The Year Without a Santa Claus premiered back in 1974 on ABC and is based off the 1956 children's book of the same name. The premise of the story is that Santa Claus wakes up with a cold shortly after Thanksgiving and, per his doctor's orders, decides to take a break from Christmas for the year, as a lot of people no longer believe in Santa anyway. It's then up to two of his elves, Jingle and Jangle, and his young reindeer Vixen, to convince not only the world that Santa is real, but also convince Santa that they still believe.
It has all of the good humor and fun of similar stop-motion Christmas movies of its time, but that's what makes it such a classic. And, obviously, that's why Freeform has dedicated so much time in their 25 Days of Christmas lineup for the movie. Although the film premiered on ABC years ago, Freeform (a division of ABC) is the only channel set to air the Christmas classic this season, but clearly they're making up for its lack of showtimes on other networks.
Like Elf and The Santa Claus, there is legitimately no way to not watch The Year Without a Santa Claus this holiday season and if you're a sucker for nostalgia, that's not really a bad thing.