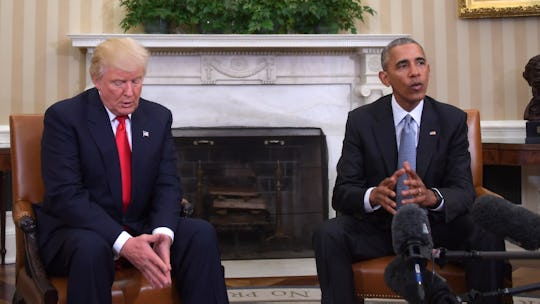 JIM WATSON/AFP/Getty Images
When Does Trump Move Into The White House? His Family Is Making Plans
It's happening. Donald Trump has been elected to succeed President Barack Obama as the 45th President of the United States, and the new job comes with a few choice perks, like a new plane and a fancy house in Washington D.C. But for Trump, the White House could be seen as a step down, both literally and figuratively, from his golden Trump Tower in Manhattan. So when does Trump move into the White House?
The Trump family will officially become residents of the White House on Inauguration Day, Jan. 20, 2017. That's the day the White House staff will say their goodbyes to the Obamas as they head off for Inauguration Day ceremonies. While the Inauguration is going on, the White House staff springs into action. Over the course of a handful of hours, the Obama's personal things will be packed up and the Trumps' stuff will arrive and be unpacked and ready to go upon their arrival, according to the White House Historical Association.
Brad Blakeman was a former deputy assistant to President George W. Bush and described what it like behind-the-scenes at the White House on Inauguration Day like this:
"Within the six hours that the parade and swearing-in take place, the White House and West Wing will be totally transformed to receive the new president and his family," Blakeman told ABC News in 2009 in anticipation for the Obamas to take up residence in the White House.
But that was then. Trump's presidency is likely to be different.
For starters, Trump loves his Manhattan tower, his Florida estate Mar-a-Lago, among his other posh properties. And a source told the New York Times that Trump is trying to decide just how many nights a week he wants to actually spend in the White House. The source said President-elect Trump wants to spend time in New York whenever he can.
Complicating matters further, the Times reported, is that Trump's youngest son, Barron, is just 10 years old and midway through his school year in New York. Those details are still being discussed, according to the Times.
But when you're president, everywhere you are must be secured and that's often far easier to accomplish at the White House, which is already fortified for top-level security. According to New York Magazine, police are contemplating shutting down the area surrounding Trump Tower to all traffic whenever President Trump is in the building. That's going to be a huge hassle for New Yorkers working and living in the area — not to mention the money it will cost businesses that are in the area that's closed off. The airspace over Trump Tower has already been secured by the FAA, New York Magazine reported.
A Trump presidency will no doubt break plenty of rules and traditions. How many presidents has America had who will have to step down their level of luxury to live in the White House?