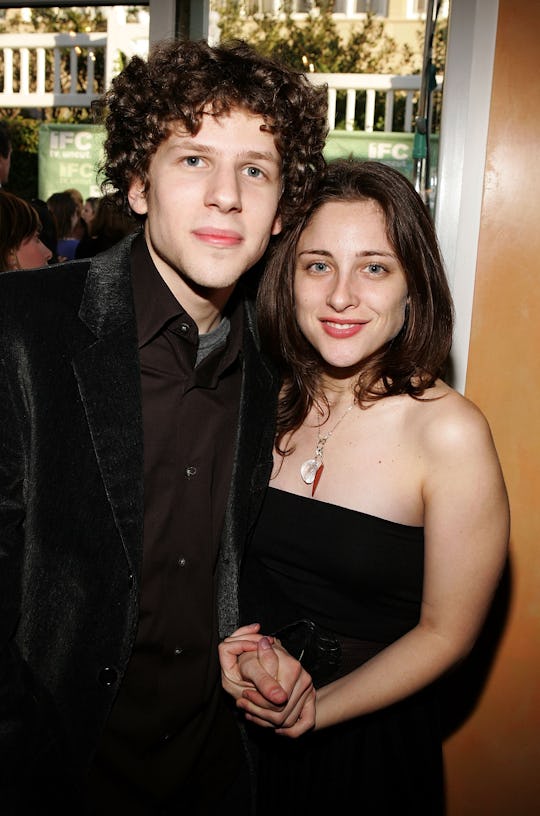 Frazer Harrison/Getty Images Entertainment/Getty Images
When Is Anna Strout Due? Jesse Eisenberg's Longtime Girlfriends Is Expecting
October has been a big month for Now You See Me star Jesse Eisenberg. He recently celebrated his 33rd birthday, in case you were wondering, and now it looks as though Eisenberg's longtime girlfriend Anna Strout is reportedly expecting a baby. How exciting is that?
Eisenberg and Strout have been together since 2002, other than a brief stint apart in 2012, which I can only assume saw the two of them walking deserted beaches with their jeans cuffed and thinking about each other. Luckily, their stint apart ended right around the time that Eisenberg spent four months volunteering at a domestic violence shelter run by Strout's mother in Bloomington, Indiana. He raised enough funds during his time there to pay off the shelter's mortgage... and thank you, Jesse Eisenberg, I now have the basis for my new romantic drama screenplay because that is just beautiful. Strout and Eisenberg remain a steadfastedly private couple, although Eisenberg did spill the beans to Seventeen Magazine in 2011 about why he loved Strout:
I find people who want to help other people to be the most interesting. I come from a family of teachers, and my friends are teachers, often times in very difficult school situations. My job is so selfish and focused on my own vanity that I like to surround myself with people who are actually helping people throughout their day.
While there is no word on the due date as of yet for the wee one, Strout was showing in recent photos which could either put her past her first trimester (or could mean she just ate a deservedly delicious lunch — we've all been there, guys). We'll find out soon enough, I guess.
Eisenberg did date fellow actress Mia Wasikowska (the two costarred in The Double) from 2013 to 2015, but is clearly back to being pretty ensconced with Strout.
Eisenberg and Strout, who met on the set of The Emperor's Club where Strout was working as a crew member, live close to Bloomington, Indiana, and try hard to stay out of the limelight. They were spotted at a basketball game in January but have otherwise been able to wander about as newly expectant parents unfettered by the paparazzi. Which could be good news for their little one. This kid could get the best of both worlds; a well-heeled life without all that Hollywood drama.
On the other hand, that kid is one day going to find out their dad played super villain Lex Luther in Batman vs. Superman. Eisenberg will have a lot of explaining to do.