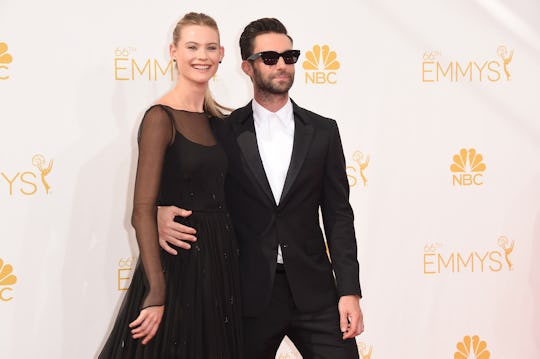 Jason Merritt/Getty Images Entertainment/Getty Images
When Is Behati Prinsloo Due? She & Adam Levine Won't Have Too Much Time To Prep
It seems congratulations are in order for Maroon 5 frontman, and super sexy rocker, Adam Levine and his equally gorgeous and talented wife, Victoria's Secret Angel Behati Prinsloo. Why? Well, on Thursday the couple announced they are expecting their first baby. (Aw! Hooray!) But when is Behati Prinsloo due?
Sources say Prinsloo is three or four months along, according to Us Weekly, but the couple has yet to make an "official" announcement — which is to say they have yet to create an oh-so-cute Instagram post to celebrate the joyous occasion. However, if sources are correct, that would put Prinsloo's due date sometime around September, and shortly after they celebrate their second wedding anniversary.
The Levine-Prinsloo pregnancy announcement should come as no surprise. Hollywood Life reported that the couple had been trying to get pregnant ever since their wedding in July 2014 — the same month Prinsloo told Net-a-Porter that she "definite[ly]" planned to have children. And, in September 2014, Levine revealed to Ryan Seacrest, during a KISS FM radio interview, that he couldn't wait to start a family. Not just a family, though, Levine said he wants a big family. Like, a really big family:
We're definitely going to do it [start a family]...I want to have 100 kids. I want to have more kids than would be socially responsible.
And it wasn't the first, or only, time Levine talked about kids. During a 2015 interview with E! News, Voice co-host Christina Aguilera asked Levine when he and Prinsloo were going to have their first child. At the time, Levine said it would be soon.
Oh dude, soon. I don't know Christina. We're looking at the next year. We have some time... next spring.
(Seems Levine wasn't all that far off.)
Of course, The Voice coach is "over the moon" about impending fatherhood, according to Us Weekly. And Twitter fans seem to be sharing in mom and dad's excitement:
And one even made this hilarious "rendering" of what baby Levine may look like:
Now that we have a guesstimate for when Prinsloo is due, she and Levine will hopefully reveal whether they are having a boy or a girl? Inquiring minds need to know. If Prinsloo's baby is due in late summer, I really hope she stays healthy and cool, because summer pregnancies can be rough. But I wish them nothing but the best (and a whole lot of cold drinks once the heat picks up).