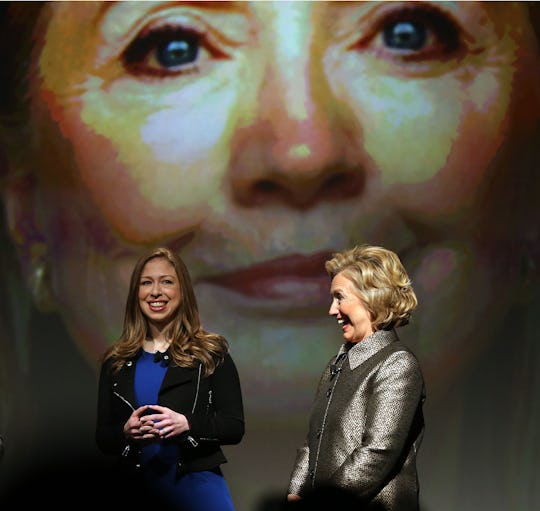 Getty Images
When Is Chelsea Clinton's Baby Due? Just In Time For The Democratic National Convention
With the announcement of her pregnancy today, only one question remains: when is Chelsea Clinton's baby due? She gave a hint in her announcement tweet today writing that "Next summer, Charlotte is going to be a big sister! Feeling very blessed & grateful this holiday season." If she's two or three months pregnant, which is a pretty standard amount of time to make sure everything is going as planned before you tell the entire world, it looks like Chelsea's second child will be arriving sometime around June or July. Which could be tough for scheduling around the July 27 start date of the Democratic National Convention.
This is very exciting for the philanthropist and her husband, Marc Mezvinsky, but also (put on your cynical political pundit hats, guys) probably pretty good news for her mother, Hillary Clinton's campaign. Assuming Hillary is the Democratic nominee for November's presidential election, a little family action midsummer could be good news. Think about it: watching a new grandmother welcome her second grandchild — and the Clinton's are pretty adorable with how into their grandkids they are — could be very good for her image. Especially for those who still find Hillary a little unapproachable as a candidate. Showing a softer side is something Clinton's advisors have struggled with for almost her entire solo political career.
A lot of other political junkies are thinking the same thing, though some are even going as far to say the pregnancy is manufactured, which only goes to show just how little those on the other side trust the candidate:
Such is the life of a political dynasty like the Clinton's. But wait: this happened in 2014, too, when it was revealed that Chelsea was pregnant with her first child, Charlotte. Even back then, the haters were looking towards the 2016 campaign trail:
The Clinton's don't breed much compassion for their opponents. Hillary has been talking about being a grandmother on the campaign trail, especially in terms of how it informs her thinking about domestic issues like women's health and income equality. During the first Democratic debate in October Clinton spoke at length about her role as mother and grandmother:
I'm the granddaughter of a factory worker and the grandmother of a wonderful 1-year-old child. And every day, I think about what we need to do to make sure that opportunity is available not just for her, but for all of our children. I have spent a very long time — my entire adult life — looking for ways to even the odds to help people have a chance to get ahead, and, in particular, to find the ways for each child to live up to his or her God-given potential.
Politics aside, it's exciting news for the Clinton family. And Hillary and Chelsea both should just let the cynics be cynics and start talking babysitting schedules. A new baby has nothing to about politics, haters.
Image: Spencer Platt/Getty Images