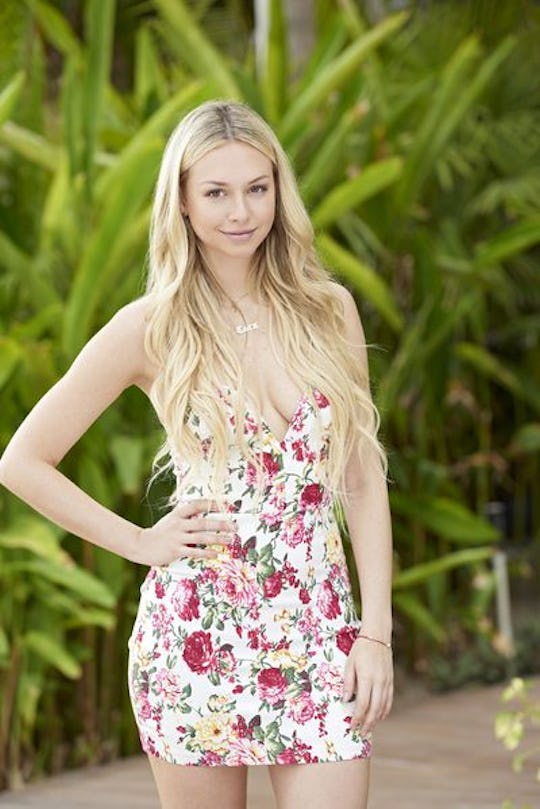 Bob D'Amico/ABC
Corinne Will Finally Get To Tell Her Side Of The Story On 'Paradise'
Bachelor in Paradise isn't done addressing a very serious sexual misconduct allegation which shut down production on Season 4 for two weeks. A big chunk of Episode 2 was dedicated to showing what went down on the night production ground to a halt, followed by a long group-processing session moderated by Chris Harrison. During it, the cast unanimously decided to keep filming after an independent investigation determined that no misconduct took place. This week, fans will see an exit interview with DeMario Jackson, but when is Corinne's interview with Chris Harrison on Bachelor in Paradise? Viewers will get to hear from both sides.
DeMario's interview is scheduled to be included as part of Tuesday's Episode 4, while Corinne Olympios' interview will air next week on Aug. 29. In previews for DeMario's talk with Chris, which takes place in the "Tell All"/"After the Final Rose" studio, fans see the BiP contestant in tears discussing his ordeal. According to DeMario, Corinne is the one who led their (mutually intoxicated) interaction from the bar to the pool. It was only after the incident, when a field producer saw the footage, that two producers came forward with concerns that Corinne was too drunk to consent to a sexual interaction with DeMario. Per the rules of the show, production shut down immediately to accommodate a full investigation of the incident.
Interestingly, amidst public outcry over production pumping contestants full of alcohol, the cast members overwhelmingly came to production's defense during their talkback following the incident. They maintained that while cast members do grow close with the production team (think about all the intimate, emotional talks they have to have to get that cutaway interview footage), no one is served a drink unless they order one and production has never suggested that anyone drink or go make out with someone.
The cast was also in lock step about DeMario's vilification in the media being racially motivated and they agreed that slut-shaming Corinne was out of line. Derek even went so far as to suggest that the statement put out by Corinne a few days following the incident, in which she called herself a victim, was a face-saving move by her lawyers. The cast agreed that it didn't sound like her and they felt like she was backed into releasing the statement against DeMario as a PR strategy. Hopefully, Corinne gets the chance to express what she really believes happened next week, without fear of backlash for speaking her truth.