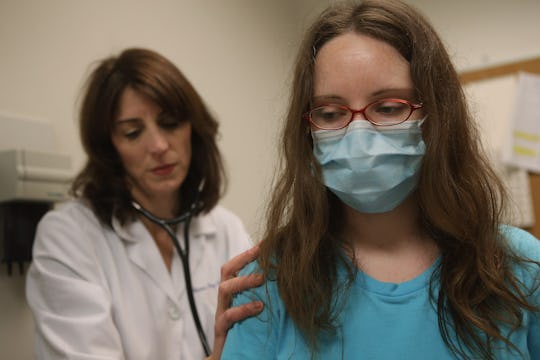 Scott Olson/Getty Images News/Getty Images
There's Finally Good News About This Flu Season
If you haven't gotten the flu yet this year, consider yourself lucky. It's been especially brutal, so you can't be blamed for wondering when flu season is over and we're all in the clear. The good news is that health officials think they might have an answer for all of us. Although the Centers for Disease Control and Prevention is wary about declaring whether or not flu season has peaked, it did report that there were fewer visits to the doctor — just one out of 16 — were for flu symptoms such as coughing and fever. In addition to that, the number of states reported high patient traffic went down from 43 to 39. It's nothing official, but it might mean that flu season is finally winding down.
Dr. Daniel Jernigan, one of the CDC's top flu experts, told NBC News, "It's been a tough season so far this year, but this week we're actually seeing the influenza-like illness activity beginning to drop. It looks like the peak of the season may actually be behind us at this point."
He added, "There is still a lot of influenza to come and so we're likely to see influenza continue to circulate until April." So keep being vigilant about washing your hands and talk to your doctor about getting a flu shot if you're worried about it.
This year's flu season started in November this year, which is earlier than its usual December or January start date. But that's just one of the reasons this year has been so devastating. Every single flu virus is made up of five strains of flu — influenza A, H3N2 and H1N1, two different strains of influenza B, and influenza C — and out vaccines contain a little bit of each one to make us immune. However, this year's flu was predominantly H3N2, which is particularly hard for us to fight off. We're just not as used to it, so our body doesn't have a lot of tools to fight it, making our symptoms worse, as reported by Vox.
To make things even worse, the flu vaccine mutated this year when they were making it, rendering it only 25 percent effective, according to the Associated Press. That doesn't mean that it was a bad idea to get a flu shot — it makes you partially immune and also renders the symptoms a little more tolerable and harder to transmit to other people. But it does mean you can still get sick.
However, just because the CDC says that the numbers are going down doesn't mean the flu season is totally finished with at all. The agency reports that hospitalizations and illnesses are still widespread across the country and by the end of the season, it predicts that there will have been over 700,000 hospital admissions. According to the CDC, 10 percent of all deaths were due to complications from the flu and there have been 97 child deaths due to it.
According to Dr. Anthony Fauci, director of the National Institutes of Health National Institute of Allergy and Infectious Disease, there is no such thing as a "good" flu season, as reported by National Geographic. They're all deadly, but this year is decidedly the worst since 2014-2015. But we just have to hold out a little bit longer hopefully.
The CDC still recommends that people who haven't been vaccinated get a flu shot, even this late in the season. Children and the elderly might even need two rounds of the vaccine. Just remember that it takes about two weeks for your body to produce antibodies, so you're not in the clear right after you get the shot.
Still, that there have been less people heading to the hospital with symptoms is a very good sign. Hopefully it sticks.
Check out Romper's new video series, Romper's Doula Diaries:
Watch full episodes of Romper's Doula Diaries on Facebook Watch.