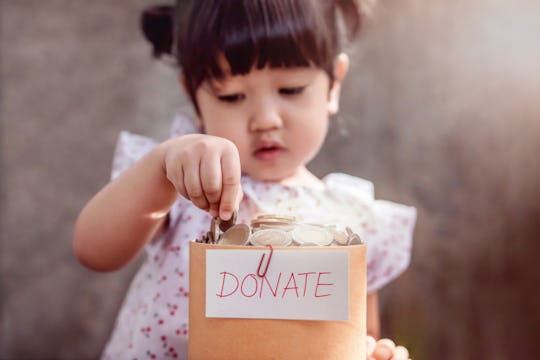 Black Salmon/Shutterstock
Giving Tuesday Is Coming Up, & You Don't Have To Spend A Penny To Participate
Y'all, it's really been throwing me off that Thanksgiving is a week earlier than usual this year. I mean, I'm excited that I have a reason to celebrate just three weeks into November, and it's nice that it feels like I'll actually have time to get my holiday shopping done after turkey day thanks to that extra week. But I've been super confused about the actual dates of things, especially Black Friday, Cyber Monday, and Giving Tuesday, which, it turns out, is just days away.
As it is every year, Giving Tuesday will be on the Tuesday immediately following Thanksgiving. This year, that date is November 27. In case you're not familiar with the concept, Giving Tuesday "is a global day of giving fueled by the power of social media and collaboration," according to the official Giving Tuesday website. The idea is to get the entire world to participate in giving to others for 24 hours, and it's kind of like the official start to charitable giving for the holiday season after the epic consumerism that takes place on Black Friday and Cyber Monday, which is honestly a necessary reminder. There's nothing wrong with some serious holiday shopping, but I know I can definitely get caught up in the material spirit of the holidays. Setting aside a day to give instead of get makes me feel like I'm the Grinch growing my heart three sizes as I actually take the time to remember how fortunate I am.
The promo video for this year's GT (above) will give you all kinds of feels, and watching it reminded me that I also love this day because the program really emphasizes that giving money isn't everything. Obviously donating to a charitable organization or cause you believe in is a great way to help others if you have the means, but not everyone has money to give, especially around this time of year. The site encourages people to donate time by volunteering or act as an advocate for organizations online, and finding an hour to give rather than $100 feels more manageable for many. Plus, volunteering with your kids is a great way to show them the value of giving to others when they're young, and it can be kinda hard to build that into your normal weekly schedule. So after teaching your kiddos about everything they have to be thankful for on Thursday, you can reinforce that message by volunteering together on Tuesday.
The social media aspect of Giving Tuesday is important too, as the campaign relies on #givingtuesday to spread the word about the event and encourage others to participate. Notable names like John Green and Kerry Kennedy have already made posts about what causes they'll be donating to this year, and I'm sure more famous posts will start to flood in as the week continues. Definitely use the tag if you decide to participate, as you might inspire some friends or family members to do the same.
Giving Tuesday is a sweet and easy way to give back for the holidays, and the biggest message of the day is just to get involved in any way you can. Hopefully it'll inspire you to keep giving to others throughout the season and all year long.
Season 2 of Doula Diaries shares the stories of fearless doulas helping their clients take control of their births and make tough choices that feel right to them. Watch the first episode of the new season Monday, November 26th.