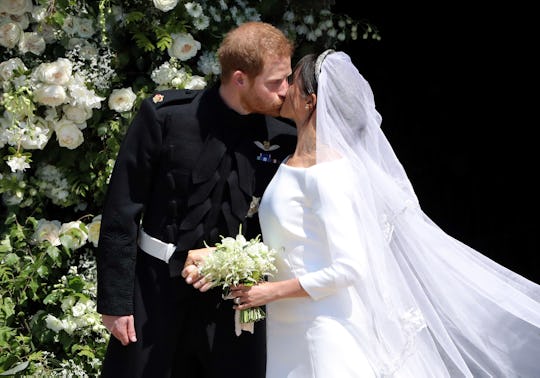 WPA Pool/Getty Images Entertainment/Getty Images
International Kissing Day Is Almost Here — It's Time To Stock Up On Lip Balm
You must remember this: A kiss is just a kiss, but kissing is still a pretty big deal. In fact, there's even a non-official holiday devoted to smooching. Sure, there are non-official holidays devoted to just about everything — from donuts to best friends to axe-throwing (seriously, that's a real day) — but kissing actually deserves a special day all its own. After all, the human race would probably cease to exist if not for the humble kiss. So when is International Kissing Day, and how should you observe the occasion?
Get ready, because International Kissing Day 2018 is on July 6 (according to the website Days of the Year). As the site explains, "International Kissing Day was established in 2006 to focus on the kissing that takes place between lovers, and to celebrate the place it holds in our society." Awww, what a sweet idea. As far as holidays go, that's about as pure as it gets. No push to buy gifts or candy or go to parades or cook a particular meal, just a day that encourages everyone to spend a few hours showing some love for this very versatile activity. Because, when you think about it, a kiss is very versatile: It can be a hot and steamy mouth-to-mouth affair or a friendly peck on the cheek or the silly kind of kiss you plant on a baby's tummy to get a laugh. Kissing is for everybody, and it doesn't necessarily have to be romantic, as evidenced in this pic of Australia field hockey defender Edwina Bone kissing a baby on day five of the Gold Coast 2018 Commonwealth Games:
Babies love kisses! That said, romantic kisses are probably everybody's favorite type. So why not use International Kissing Day as an opportunity to brush up your skills in the making-out department? Even if you're a world class kisser, there's always room for improvement. And whether you're looking to impress a new partner or surprise your spouse of many years, adding a few new tricks to your kissing repertoire will totally blow them away. From nibbling on his lower lip to paying attention to areas you usually skip over (like the neck and ear) to trying out new positions, it's super easy to mix it up, and the results will be magical.
Another perfect way to spend International Kissing Day is to kick back and binge watch some movies known for their memorable kisses. One of the first that comes to mind, of course, is The Notebook and that now-iconic embrace. I mean... come on:
It just never gets old, does it? And there's so much more cinematic inspiration to be found. Also frequently found on lists of "top movie kisses of all time," are scenes from Casablanca, The Princess Bride, Ghost, Spiderman, and Titanic. Oh, Jack and Rose! Our hearts will go on, Leo.
One word of warning: Don't let all those perfectly choreographed movie kisses fool you into believing that kisses IRL can't be just as bizarre and messy as they are beautiful. Kissing does involve the human body, obviously, so there is a physiological aspect to kissing that can't be denied (not to mention less than romantic stuff like spit). From a biological perspective, kissing kicks off quite a chain of reactions in your body: Your adrenaline levels spike, the feel-good hormone oxytocin is released, your heart rate increases, your saliva production goes up... you might even boost your immune system!
Clearly kissing is something we should all try to do as often as possible, not just on International Kissing Day. But that's what special "days" are all about: Reminding us to appreciate something we might take for granted the rest of the year.