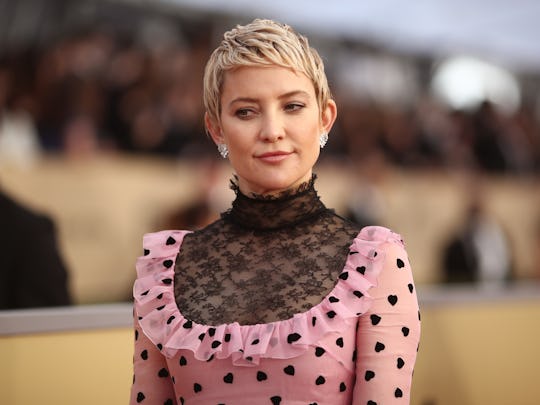 Christopher Polk/Getty Images Entertainment/Getty Images
Kate Hudson Is Pregnant With Her 3rd Child, & Here's When She's Probably Due
It looks like the famous Hudson family is going to grow by one more! On Friday, actor Kate Hudson announced on social media that she's pregnant with her third child. Of course, there's one question on everyone's mind: When is Kate Hudson due? She didn't reveal a due date in her Instagram post, but by the looks of it, it wouldn't be a surprise if she gave birth this fall.
Hudson broke the news Friday afternoon that she and her musician boyfriend, Danny Fujikawa, are expecting their first child together by posting to an Instagram video of her sex reveal party, according to US Weekly. In the short video, Hudson and her family, including Fujikawa, are seen popping big black balloons, two of which are decorated with question marks. The celebrity couple, who recently celebrated their one-year anniversary, jump up in excitement after they learn they're expecting a baby girl, thanks to a burst of tiny pink balloons and confetti after the pop, US Weekly reported.
The 38-year-old soon-to-be mom of three wrote in her Instagram caption, "SURPRISE!!! If you've wondered why I've been so absent on my social channels it's because I have never been more sick! It's was the most sick first trimester of all my children."
Hudson continued, according to The Daily Mail,
Boomerangs have made me nauseous, Superzoom is an easy way to have my head in the toilet, food instagrams make me queezy and thinking too much about insta stories made me even more exhausted than I already had been. If you've seen me out and about smiling and pretending like everything is amazing...I was lying! BUT! I have broken through on the other end of that and rediscovering the joys of insta/snap.
The Pretty Happy author admitted in her caption that, even though she and Fujikawa were trying to keep the pregnancy "under the radar for as long as possible," they could no longer hide the fact that she's having another baby, The Daily Mail reported. She wrote on Instagram,
[B]ut I'm a poppin now! And it's too darn challenging to hide, and frankly hiding is more exhausting then just coming out with it! My kids, Danny, myself and the entire family are crazy excited! A little girl on the way.
This is Fujikawa's first child. Hudson is already mom to 14-year-old Ryder, who she shares with her ex-husband, musician Chris Robinson, and 6-year-old Bingham, who she had with ex-fiancé Matthew Bellamy, frontman of Muse.
Funny enough, Hudson unknowingly predicted that her next child would be a girl in an interview with The Times last month. She told the U.K.-based magazine that she wasn't "done" having children, and would like to start a family with Fujikawa, who she met a decade ago, E! News reported. The How To Lose A Guy In 10 Days star then added that "a girl would be fun," according to E! News. And a girl, it is!
Fujiwaka and Hudson celebrated the anniversary of their first date in December, but the couple actually knew each other since the early 2000s, according to US Weekly. She explained in a December Instagram post that she met the musician, who owns Lightwave Records, when she was 23 and "enormously pregnant with Ryder," but that they didn't have their first date December 2016, US Weekly reported. Hudson continued,
[W]hat I thought was just a hike with a family friend turned very quickly into an unexpected first date. No moves were made on this first date. In fact, it took months for him to make a first move! And as a kiss on this bridge would have been nice, the kiss a year later was so much sweeter.
OK, that totally makes me gush. Congratulations to the couple and the growing Hudson family!