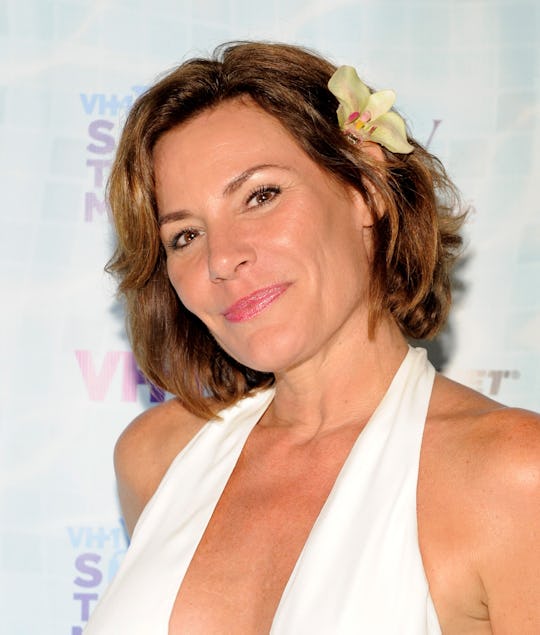 Matthew Eisman/Getty Images Entertainment/Getty Images
When Is LuAnn De Lesseps' Wedding? The 'Real Housewives' Star Is Planning A Celebration
Everyone's favorite Countess, LuAnn de Lesseps, has been dating up a storm on the past few seasons of The Real Housewives of New York, but none of her relationships ended up being serious enough for marriage to be a possibility. All of that changed when she was introduced to Thomas D'Agostino Jr. The two became engaged in a matter of months and LuAnn seems happier than ever. The couple is definitely eager to commit, but when is LuAnn de Lesseps's wedding to Thomas D'Agostino Jr.?
LuAnn and her fiancé will be tying the knot on New Year's, which also happens to be Thomas' fiftieth birthday, and it promises to be a big, blow-out affair befitting the occasion. LuAnn's first marriage to the Count had been an elopement (after a similarly quick courtship; they got engaged after only five days!), so she's seizing her shot to finally have the big wedding of her dreams. Though the couple only got engaged around a month ago, plans are already in motion. Thomas had planned a Valentine's day proposal, but just couldn't wait until the day of to propose, surprising LuAnn with a seriously flashy ring. Now they're settling the details, and some of their plans have already made it to the public.
After being introduced by Housewives castmate Dorinda Medley, LuAnn and Thomas hit it off right away. Dorinda described him as the "male version" of LuAnn, explaining that she "always thought they were practically mirrors of each other — very similar personalities, tastes, and definitely sense of humor." It seems Dorinda was right, because LuAnn and Thomas were inseparable from the moment they met. LuAnn even said she knew she wanted to marry him after the first week. "You either jump on the train or you miss it," she told Us Weekly.
LuAnn also promised that the wedding would have "the whole nine yards," and that it would likely happen in Palm Beach because that is where Thomas spends his time when he isn't in New York. Dorinda echoed those sentiments to Bravo's The Daily Dish: "I believe — since she eloped for her first wedding — that this will be a truly magical Palm Beach almost-fairy-tale classic, old world wedding."
While viewers probably won't be seeing the wedding this season (it's still nine months away), there is sure to be plenty of story generated from LuAnn's engagement. There's a good chance the show will cover Thomas popping the question, but it's even more definite that it'll dive into his dating history with co-stars Ramona. LuAnn doesn't seem bothered by it, but trust this show not to pass up any drama available.
LuAnn will also finally relinquish her Countess title upon remarrying, but she's happy to made the trade. With or without the title, she'll always be the Countess to me. Elegance is learned, after all.