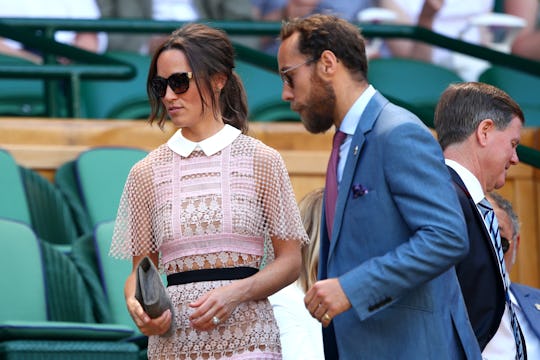 Clive Brunskill/Getty Images Sport/Getty Images
Here's When Pippa Middleton Is Due, Because It's An Exciting Time
So, in case you haven't been able to dedicate your entire life to following the happenings of the royal family, you've probably been wondering what all the fuss is about. And that's totally understandable. After all, there's a lot going on. So, with the news that she's pregnant, when is Pippa Middleton due? Well, initial reports have indicated that the younger sister of Kate Middleton is due sometime in October, although it's unclear when exactly that will be.
Although the happy baby news has yet to be confirmed by Middleton herself, and Romper's request for comment was not immediately returned, the news that the 34-year-old was expecting first broke on April 22, 2018, and the world was seriously happy. But since then, there has been little news regarding the pregnancy, so it's hard to know what's what. However, according to The Sun, Middleton and her husband, 42-year-old James Matthews let their close friends and family members know that they were pregnant after Middleton's 12-week checkup, so it's likely that she's due in October.
Really, though, the public shouldn't expect to know a whole lot about Middleton's pregnancy, as she isn't as much of a public figure as her older sister obviously is.
Of course, Middleton's 2017 wedding to Matthews was a highly publicized event, but that was likely because Duchess Kate and Prince William, along with their two children, were in attendance. And it was kind of an amazing day, too, since the adorable photos of Prince George and Princess Charlotte taken outside of the church are seriously perfect.
Hopefully, more information will become available about Middleton's reported pregnancy, but until then, the world will just have to wait to know all about the happy news. Of course, anonymous sources have detailed that the happy couple has been excited to tell all their friends and family the good news. Per The Sun, "Kate, who gave birth to her third child on April 23, was the first person after Pippa's husband, James Matthews, to hear the good news." But there's another pretty big royal event coming up that is kind of dominating the headlines.
Yes, the upcoming royal wedding between Prince Harry and Meghan Markle is a little bit of a big deal, and so it makes sense that the news would be a bit more focused on that than on Middleton's reported pregnancy. Additionally, Middleton's older sister also just gave birth, as stated above, and so considering the younger Middleton sister isn't a Duchess and doesn't have to live as public of a life, it's understandable that her pregnancy wouldn't be as big of a deal.
Which, ya know, isn't to say that Middleton isn't positively thrilled to be pregnant with her first child, but just that it's fine that her pregnancy isn't written about as much as her older sister's was. And as exciting as it is that Middleton could be pregnant with her first child, the happy couple was also in the news recently for a not-so-good reason regarding the upcoming royal wedding. According to The Mirror, "the Duchess of Cambridge's little sister has reportedly been left off the invite list for Prince Harry and Meghan's wedding reception next Saturday."
Now, this likely isn't meant to offend Middleton and Matthews, as Markle and Prince Harry's wedding is set to be significantly smaller than Prince Harry's older brother's nuptials to his wife. Then, 1900 guests were invited to the ceremony, and Prince Harry and Meghan Markle's ceremony will only have around 600 guests, per The Sun.
So again, it isn't that big of a deal that Middleton and her husband aren't invited to the ceremony. What is a big deal is that another baby is about to be born in the royal family (sort of) and it will happen this fall.