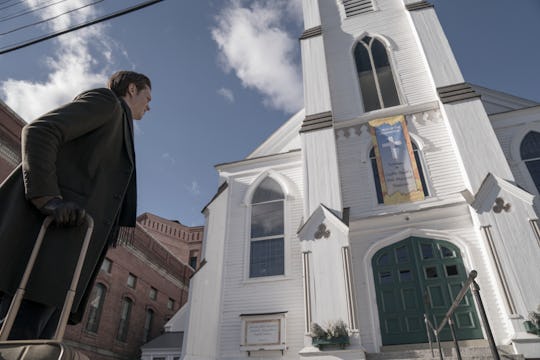 Dana Starbard/Hulu
Fans Are Waiting For Season 2 Of 'Castle Rock'
Hulu's supernatural series, Castle Rock just aired its season finale, closing out the tale of two Deavers. With the end of the ten-episode season, fans are already speculating about future storylines. The series was renewed by the streamer in August, but exactly when is Season 2 of Castle Rock premiering? Fans can't wait to revisit the sinister little town.
While Hulu has yet to reveal an official release date, if they stick to their original release schedule, you might see Season 2 of Castle Rock drop sometime next summer. The streamer has been pretty consistent with the releases of its other original series (with Shut Eye, The Handmaid's Tale, and Chance all premiering their second seasons in the same month as the first), so with Season 1 of Castle Rock premiering on July 25 of 2018, it's likely that the second season will premiere in July of 2019.
While waiting might be hard, at least fans have the comfort of knowing that Castle Rock will return. In fact the series' creators Sam Shaw and Dustin Thomason have already mapped out future story lines for the anthology, and in an interview with Esquire, they outlined their plans for subsequent seasons. "Each season gives us the opportunity to present a new story — whether it's jumping around in time and presenting a story set in the 1970s, a more classical monster story, or a totally naturalistic Stephen King kind of story," said Thomason.
While the creators have remained tight-lipped about the story and characters you'll see next season, the final episode of Season 1 ended with an after-credits clip that may hint at a future storyline. In the clip, Jackie Torrance (Jane Levy) — who revealed in Episode 5 that her uncle was Jack Torrance from King's novel, The Shining — is seen writing a book, which she titles "Overlooked," hinting at her connection to the Overlook Hotel. She goes on to talk about her plans on going out west, where she hopes to go back to where her family history started. Fans have been theorizing that this scene was a set-up for Season 2, but the showrunners aren't divulging any details.
In an interview with Entertainment Weekly, Shaw and Thomason talked about that after-credits scene, and addressed rumors of a possible Overlook Hotel story line for Season 2. "Here's where we'll probably be infuriatingly tight-lipped, but what I would say is that we would sure love to see Jackie explore the Overlook Hotel," said Shaw. "The penultimate episode of this season points to the idea that there are other worlds than these, and in this final tag there's this sense that there are worlds of Stephen King's that this show may explore eventually that are more far-flung than the state of Maine."
With that being said, a Jackie Torrance arc for Season 2 is not out of the question. And as a fan of The Shining myself, I really hope that the series takes a trip to the Overlook Hotel, a place which is just as creepy as the town of Castle Rock. I also think that Jane Levy's character was introduced for a reason, and while she didn't get much airtime in Season 1, I'm hoping to see more of her next season.
As July of 2019 gets closer, more details surrounding the production and release date should be revealed, but fans will have to wait for more information. Until then, you can always re-watch Season 1 on Hulu, and possibly catch all the Easter eggs you missed the first time around.