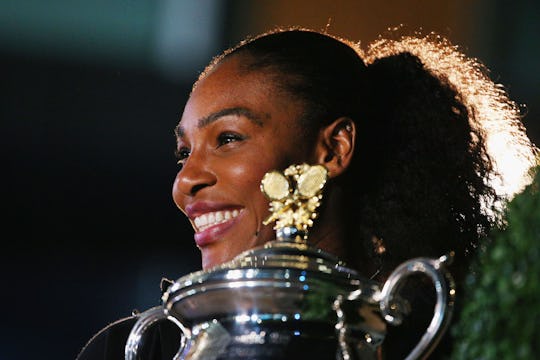 Michael Dodge/Getty Images Sport/Getty Images
Serena Williams Will Welcome A Baby In The Fall
On Wednesday, 35-year-old tennis superstar Serena Williams took to Snapchat to announce she is pregnant with her first child. When is Serena Williams due? According to Williams's pregnancy announcement Snapchat, she's 20 weeks along into her pregnancy. That puts her at about five months pregnant, which means her baby would be due sometime in late August or early September. Williams got engaged to Reddit co-founder Alexis Ohanian in December. William's pregnancy marks the couple's first child together.
Dressed in a blazing yellow swimsuit, Williams's Snapchat selfie was captioned with just the words "20 weeks" — but a glimpse at her Instagram account reveals that she's might have hinted at the news earlier this week. "Fighting to get up this morning," her Instagram caption from Monday reads, as Williams posted a close-up selfie of herself still in bed. Maybe she has a touch of morning sickness to deal with, or at the very least, the crazy tiredness that comes from pregnancy? I remember that pregnancy exhaustion so well, Serena — girl, I get it.
With a late summer or early autumn baby on the way, that means Williams can expect either a little Leo or Virgo on her hands, respectively. Williams herself is a Libra, with a Sept. 26 birthday. If she ends up giving birth in mid-August, she can expect a little lion who could very well share her love of sports. According to Astrology.com, Leos love sports and the outdoors. The astrology website also says that Virgos love to exercise, so you can bet tummy time will be a stepping stone into a lifetime of sports and fitness no matter when Williams's baby is born. Either way, she'll still have quite the little personality on her hands whether her baby ends up born a Leo or a Virgo: Zodiac cusps are tricky business.
On Tuesday, Williams posted a sweet photo to her Instagram with fiancé Ohanian lifting her up on the beach. First of all: Adorbs. Secondly: Alex, put that woman down — she's 5 months pregnant with your first child, for goodness sake! But the happiness can't be helped with all the exciting news for them — and it's obvious the pair are over the moon.
Williams and Ohanian had been dating since 2015, according to Us Weekly, and the couple has been notoriously private. Their engagement came as surprise to many, as Williams announced their engagement via a poem — on Reddit, of course. There's no word yet on when Williams is getting married to Ohanian, but now they can add nursery designs to their wedding plans, too. Exciting times all around. Yay for them!